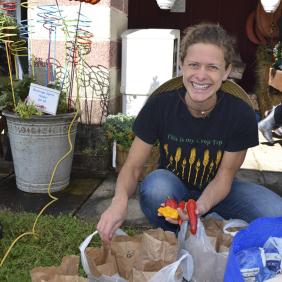 Sarah
Dohle
,
Assistant Professor
Office Location: Feldman 119
Dr. Sarah Dohle joined the plant science department at Delaware Valley University in 2017. She's interested in promoting sustainable agriculture with a focus on biodiversity and improving soil health.
Outside of class, Dr. Dohle works with DelVal students and community members in the Participatory Plant Breeding Program to develop regionally adapted unique varieties of produce, starting with the next hottest pepper, beans, squash and tomatoes. The breeding program is a great way to get students interested in learning about genetics, horticulture and biodiversity while developing new, delicious things to eat.
Dr. Dohle grew up in Montgomery County and earned her Ph.D. studying lima beans at the University of California Davis. She has worked on projects at the International Maize and Wheat Improvement Center (CIMMYT) in Mexico, on high vitamin A corn, and at the International Center for Tropical Agriculture (CIAT) in Colombia, studying bean diversity. Both experiences expanded her interest in crop diversity and the importance of conservation and utilization of wide genetic variation for global and regional food systems.
Prior to her field-based research, Dr. Dohle worked as a molecular biologist at a biotech company engineering feed crops for high digestibility.
Dr. Dohle currently teaches forage and crop production classes, seed science and crop evolution. She is a regular faculty mentor for undergraduate research projects focusing on conventional plant breeding and genetic diversity.
EDUCATION
Ph.D. in Plant Biology with a focus on Plant Breeding, University of California, Davis
B.S., Biology, Emory University