One Health Seminar Series Presents, 'Vision for a return: Black food sovereignty and the post pandemic city'
---
Wednesday, February 24
6:00pm to 7:30pm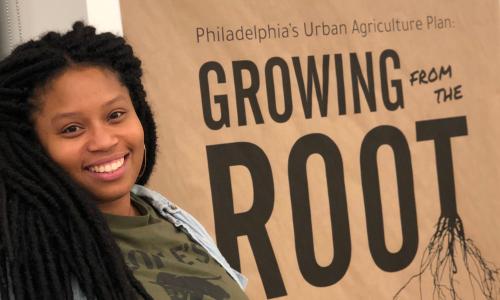 About the Presentation
Ashley Gripper will present, "Vision for a return: Black food sovereignty and the post pandemic city." During this talk, Gripper will discuss the intersections of Black farming, mental health, and spirituality through a scholar-activist lens. She will share her hopes and vision for food sovereignty and ecology in the post pandemic society. After the presentation, there will be a Q&A facilitated by Dr. Sarah Dohle and Dr. Craig Stutman from the DelVal faculty. 
About the Speaker
Ashley Gripper is the founder of Land Based Jawns and a Ph.D. candidate at Harvard. She was born and raised in Philadelphia. Her food and land work focuses on Black folks' connection and re-connection to the Creator, to ancestors, to each other, and to the land. Land Based Jawns is a spiritually rooted organization that provides education and training to Black Philly women on natural agriculture, carpentry, land based living, and self-defense with a focus on self and community healing. 
Gripper is a farmer-in-training at Sankofa Community Farm in Southwest Philadelphia. She is also a member of Soil Generation and is working with the team to design Philly's first Urban Agriculture Plan. In her academic work, she studies environmental health. Her research looks at the impact of urban agriculture on mental health, spirituality, and collective agency for Black people, and is supported by the Health Policy Research Scholars program of the Robert Wood Johnson Foundation. 
Sponsors
This event is co-sponsored by the One Health Seminar Series and Heritage Conservancy.
Tickets
The One Health events are open to the public at no cost. All are welcome. Please click the Zoom link below to register to attend.
https://zoom.us/webinar/register/WN_wCkm6oEoTKuJxlbloA1Q_w
About One Health
One Health is a multi-disciplinary approach that works locally, regionally, nationally, and globally to attain optimal well being for people and society, the environment and plants, and animals. Together, the three major components make up the One Health triad, and the well-being of each is inextricably linked to the others in the triad. To learn more about the One Health Seminar Series at DelVal, please visit delval.edu/onehealth.