Pine2Pink Yoga & Fitness Fest
---
Saturday, September 25
10:00am to 3:30pm
Delaware Valley University Quad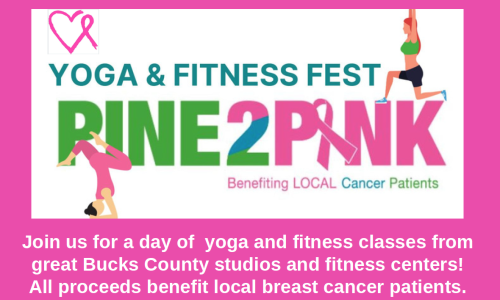 Sun Dog Yoga and barre3 Doylestown present the Annual Pine2Pink Yoga and Fitness Fest, hosted by Delaware Valley University!
About the Event
Join us for the third annual fundraising event for Pine2Pink! This year, enjoy in-person classes with your Bucks County community. There will be a full-day filled with fitness and yoga on Saturday, Sept. 25. We're offering a variety of classes from 10 of your local yoga and fitness studios, starting at 10:00 a.m. and ending at 3:30 p.m. Energize yourself while helping to raise money with Pine2Pink for local breast cancer patients + awareness!
What classes will we be offering? Here's the lineup:
10 a.m. - barre3 Doylestown
10 a.m. - Ashtanga Flow with Sun Dog Yoga
11 a.m. - Bucks Adventure Boot Camp
11 a.m. - Hatha/Vinyasa with Shine Yoga
12:30 p.m. - Training For Warriors (TFW) Doylestown
12:30 p.m.- Family Partner Yoga Fun! with The Yoga Gnome & Yogamazia
1:30 p.m. - Club Pilates
1:30 p.m.- Slo Flo Yoga with Meet Me In Down Dog
2:30 p.m. - Koru Real Wellness
2:30 p.m.- Yoga For All with Dragonfly Yoga
Registration:
Click here to register for the event!
FAQS
How long is each class? 
Each class will be 50 minutes
What to bring? 
A yoga mat, towel and water bottle and a face mask (in case of rain). All classes are propless!
What is the cost? 
$25 donation for a single class; $45 VIP Ticket includes 1 class + Pine2Pink t-shirt; Family Partner Yoga $25/each adult, $20 for one to three kids
What if it rains? 
This is a rain or shine event! Outdoors if the weather permits, or we'll move groups inside if the weather doesn't cooperate. Face masks are required indoors at DelVal so, please bring a face mask in case it rains. 
Where do I park? 
Off of New Britain Road in Lot D.
Questions? 
Send an email to doylestown@barre3.com or info@sundogyoga.com.
All proceeds go directly to Pine2Pink and to local breast cancer patients! Visit www.pine2pink.org for more details.