Get the skills and perspective you need to turn your commitment to service and social justice into effective action. A combination of theory and practice – in the classroom and the community – will give you the tools you need to build a fulfilling career in public service.
---
These institutions, so vital to a thriving society, depend on dedicated people with a commitment to service and social justice. They depend on leaders with critical thinking, analytical skills and an advocate's mind.
The master's in public policy at Delaware Valley University has been specifically designed with these needs in mind. Through a combination of theory and practice – in both the classroom and the community – you'll gain the skills and perspective you need for a fulfilling career in public service.
Social equity and a healthy environment are the foundations of strong, sustainable communities. In DelVal's MPP program, you will focus on serving the public with integrity and respect, and pursuing the public interest with a commitment to social justice and accountability.
Four areas of concentration:
Food and Agriculture – agriculture and food production, security, and distribution policy issues
Community and International Development – socio-economic development, including domestic and international policy issues
Sustainability and Environment – sustainability questions and environmental questions and policy issues
Nonprofit Management – best practices and current trends in the nonprofit sector
The degree requires completion of 36 total credits: 21 in the core, nine in concentration, and six in internship or thesis courses.
Now: Earn the MPP degree fully online.
The professors are really willing to work with you on your schedule, which was amazing...I can't say enough great things about them. They helped create my professional portfolio.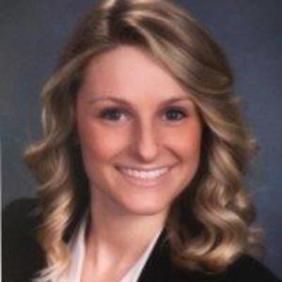 PUBLIC POLICY AT-A-GLANCE
Core Curriculum and Concentrations
Required Core Courses (21 credits):
American Public Policy (new course)
Writing and Communication for Public Policy
Political Economy
Quantitative Research Methods
Budget and Finance for the Public Sector
Community Based Research
Policy Analysis
Concentration (choose a concentration and take nine credits):
Food and Agriculture – agriculture and food production, security, and distribution policy issues
Community and International Development – socio-economic development, including domestic and international policy issues
Sustainability and Environment – sustainability questions and environmental questions and policy issues
Nonprofit Management – best practices and current trends in the nonprofit sector
Capstone and Specialization
Capstone (choose one option and take six credits):
Working with faculty advisors, students will choose to complete a thesis, internship, or professional project (with an elective)
Thesis Option – Appropriate for those considering further graduate study, students will research and present on a topic selected in consultation with faculty and their committee. Thesis students will apply the research methods learned during the coursework.
Internship Option – Completion of a 200-hour (minimum) internship with a policy organization, including completion and presentation of a reflective paper demonstrating the transdisciplinarity of the program.
Professional Project – For those employed, the professional project includes completion of an applied, policy project and one additional 3-credit elective.
Specialization Electives (9 credits)
Students, in consultation with their advisor, choose elective courses in their specialization as appropriate to their program and career interests. For the M.A. in Policy Studies, applicable graduate business courses are also available as electives. Not all courses available all semesters. 
Elective Course Descriptions - Group 1
Contemporary government economic policies and programs affecting the U.S. agricultural and food sector will be the focus of this course. As a capstone course designation, this course builds upon the student's understanding of economic tools and concepts as covered in previous course work. More specifically, the course will use these economic tools and concepts in the analysis and evaluation of public policies affecting agriculture and food. The influence of macroeconomic policy, the world economy, and international trade on U.S. agriculture and food sector is also discussed.
This course is intended to help students solve the fundamental agricultural question "Why do farmers produce what they produce where they produce it"? Every item discussed in this course is aimed at solving this question.
Agricultural and applied economics (microeconomics) is the study of the behavior of individual economic units, such as consumers and firms, how they make their decisions and how they interact. Since the "real world" is extremely complex, we need to simplify our views of the economic players if we are to make any headway in understanding them. These simplifications are called "microeconomic models." In this course we will study how economists form and develop these models. We will look at the simplifications economists make and ask how much "realism" is being set aside by our simplifications, and try to determine what, if any, important insights our models may prevent us from making. It is important to remember that this is a course on economic methodology, not on policy. A lot of what you learn here will be applied later in other courses you will take.
This course builds upon the student's understanding of agricultural and applied economics (microeconomics) as covered in previous course work. More specifically, the course will explore the factors affecting prices of agricultural products ⎯ longtime, cyclical, seasonal, and other price movements ⎯ sources of information relating to production and demand factors, government activities as they relate to prices of agricultural products, and methods and problems in price analysis and forecasting. Further, the course will integrate the training the student has had in computer methods with economics, making economics a value-added tool that the student can bring to bear on his/her daily and professional life.
The purpose of this course is to explore the notion of community development in general, and the notion of sustainable community development more specifically. The course is not designed to give you the answer on how to achieve sustainable community development, but rather to expose you to a variety of elements and viewpoints about it. As future policy makers, part of the skill set you are learning is the capacity to integrate and synthesize a multitude of perspectives into a coherent idea - this class is ideally suited to push you in that direction. This class will hopefully enlarge your conception about what community development is and how it is pursued, as well as push you to look inward, challenge your assumptions and stereotypes about the world, and leave you with a richer (if not more confused) notion of how the world works and what can be done to make things better.
This research seminar will examine the contemporary context of uncertainty that has arisen from environmental, economic and political crises largely fueled by a hypermodern vision of development. Dwindling social gains have caused many to question the promise of development and the certitude of modernity. Through the lens of various social struggles in distinct but related spaces of the global political economy, we will explore both the limiting assumptions of development discourse and practice and the possibilities of alternative visions of progress. Students will choose a particular national, international, or transnational social struggle engaged in both the contestation and rethinking of traditional visions of development to further explore and investigate.
The course builds on the planning basics introduced to the student in the DVC undergraduate course Regional Land Use Planning (AE4015). The historical underpinnings of planning and the analytical tools of planning are reviewed. Governmental context and regulatory aspects affecting planning at the regional and local levels are addressed. The planning process and the tools and techniques of traditional and innovative land use planning and growth management are presented. The interconnection between environmental protection, infrastructure problems, transportation topics, and economic development is discussed from a planning-for-sustainability perspective. Development theory and practice and how they affect spatial patterns of development of cities and regions as well as urban design are investigated. Preparing a mock local development plan gives the student team planning experience. Independent research on a planning topic or current planning issue helps the student enhance the learning experience in this course. Student prospects on continuing their planning education and possibly entering the planning profession are examined.
This course is designed to offer students the opportunity to gain an understanding of the causes and cures of our environmental issues as well as, an inquiry into how we address those issues through political and social means. Our planet is impacted by an expanding human population, poverty, the lack of necessary public and natural resources, and the dangers of toxic emissions and other pollutants imposed onto the environment and into ourselves. Dealing effectively with these issues requires an understanding of interactions between the human systems and the natural world, social mechanisms, and applying critical thinking skills with, interdisciplinary scientific analysis if we are to have long-term and sustainable solutions for the benefit of current and future generations.
Elective Course Descriptions - Continued
This course introduces the principles of a geographic information system, such as ArcView, in the analysis of land use, population studies, and demographic distributions. Students will apply this software to Environmental Science applications. Lecture and Hands-on format.
This course focuses on the uneven distribution of environmental degradation and environmental protection, considering the connection between environmental problems and race/ethnicity and class. We will focus on environmental justice/equity, social movements, health, policy, and risk to analyze the social processes which generate racism and class stratification that influence the distribution of ecological costs and benefits at the local, national and global levels. An analysis of inequalities in relation to the environment gives us insight into the complex social processes that define, create and even threaten our natural, social and built environments. This course provides a sociological perspective on environmental issues, investigating the relationships between various environmental and social problems and considering how political, social, and economic factors have come to shape our patterns of interaction. Throughout the course we will consider such issues as the siting of hazardous facilities in urban and rural minority areas, the extraction of resources from native lands, national and transnational export of toxic waste to the South, decision-making around health issues, and the development of a distinct environmental justice movement. During the course of the semester we will ask such questions as: What is environmental justice? What groups are most affected by environmental inequalities? What is the likelihood for change and a movement to a more sustainable future?
This research seminar will explore the politics of food from a systemic framework through the policies of food security and contemporary responses by social movements advocating food sovereignty. We will begin the course by examining hunger nationally and internationally. Our readings will explore such issues as the complicity in how food stamp and welfare policies are created to intra-household food distribution to the purposeful creation of famine for political and even genocidal ends. An underlying assumption of this seminar is that politics, very simply, affect hunger. Students will explore and research particular food policies that bring light to the distinct political frameworks of food security and food sovereignty.
This course on globalization and international development examines the social, economic, political and cultural causes and consequences of the long-term historical changes in the world since the end of World War II from a sociological perspective. We will discuss the issues, methods, paradigms and leading figures in the Sociology of Development and Globalization, as well as several substantive topics of empirical research. We will address macro issues of social structure and changes as well as how these impact individuals and groups in developing societies. This course demonstrates that globalization is not uni-directional: the developed world is also greatly influenced by events and trends in the developing world, although this is still not widely recognized or acknowledged. It presents alternate and competing viewpoints, as well as the reflections of many scholars and practitioners involved in formulating and implementing policies.
We will address such questions as: What explains the differences in the rates of economic growth, the structures of economies, types of political systems, popular and official reactions to globalization, the ability to build viable political institutions, changes in social structure and social relations? How should we think about these issues? What standards, measures and terminology should be used to evaluate changes? What is the appropriate role (and who decides?) of the developed world – states, militaries, non-governmental organizations, multinational corporations, mass movements, multilateral institutions – in addressing many of these topics? How should the Western world adjust to its diminished status and clout? Is there a "best" form of development to strive for, and who decides this as well as how to achieve it for each society? Are the experiences of some societies transferable to others?
This course will focus on the history and evolution of ecofeminist thought. The course will explore the movement from its theoretical foundation in the 1970s until today. At stake will be an evaluation of the primary arguments in the discourse. Specifically, students will examine the essentialist (spiritual) and material (political) camps within ecofeminism criticism. The course will ground students in the basic principles of feminism, colonialism and Marxism in order to better facilitate an understanding of ecofeminism. Students should leave the class with a clearer idea of how Western Philosophy understands space and place through the same patriarchal lens focused on woman since Plato's time.
How are social problems created? How are they addressed? The purpose of this course is to explore the social construction of social problems and their policy responses. Social problems have been created by human beings and continue to be held in place by our consent and our failure to act to change them. This course analyzes key social problems and the social policies designed to address them in the United States. We will analyze the limitations of the social policies we have developed to solve social problems, as well as develop new ideas for more socially just and equitable policies. Contemporary policies will be linked to the historical values, the economic structure, and the legacy of discrimination in the United States, with the goal of promoting policy change that enhances are commitment to social justice.
This course is designed to give students a broad overview of the laws and policies that govern both domestic and international wildlife. Students will explore historical and cultural contexts that have shaped wildlife laws and policies, as well as develop an understanding for policy design and how competing interests influence wildlife policy implementation. Through investigation of case studies and court decisions, students will critically evaluate consequences of law and policy in regard to species protection, economy, and society.
The course focuses upon the implications of genome technologies on our individual lives and social contracts. This course will be especially focused on immediate technologies and techniques that differentiate the bioethics of the moment from historical discussions on the implications of genetic knowledge. Topics include but are not limited to the advent and status quo of genomic technologies and information, consumer diagnostic devices, large scale human SNP data implications, personalized genomes and medicine, a history of eugenics, genetic testing, embryo screening, ownership and protection of genetic identity, the insurance implications of genomics, transgenic agriculture, genetically modified organisms, recombinant DNA technology, the implications of DNA patent law, gene replacement therapies, stem cell therapy, sports and gene doping, synthetic biology, genetic social inequality, and pharmacogenomics.
Elective Course Descriptions - Continued
The course focuses on the ethical and social issues that surround the process of therapeutic development, manufacturing, marketing and distribution. Particular focus will be placed upon understanding the numerous ethical dichotomies present in this simultaneously high-risk and high-profit driven industry at a time of profound domestic and international need for disease treatments. Topics include but are not limited to the pharmaceutical development and testing life cycle, the ethics and results of clinical trials, clinical equipoise, non-clinical toxicology, pharmaceutical regulation and the capture effect, the drug discovery process, domestic patent law, international patent law, patent enforcement, the implications of DNA patent law, medical practitioner & pharmaceutical firm relationships, the ethics of pharmaceutical marketing, pharmaceutical product liability, first-world vs. third-world disease pharmaceutical development, epidemiology as it relates to drug development and distribution, and homeopathic therapeutic regulation and distribution.
The course is an intellectual history on the development of environmental thoughts and ecological consciousness in the Western societies. It will examine the ideas of man-nature relationship from the Scientific Revolution to the establishment of ecology as an academic discipline of 1970s. The course aims to provide intellectual background that links to the central features and debates of contemporary environmental issues and policies.
This course looks at past and current practices and policies and their effects on our environment. It includes presentations by a number of guest speakers from the public and private sector. Corrective measures are studied and discussed. There is no textbook for the course but readings and material presented by the speakers will be used.
This course examines the role of the state in society. Special attention is paid to the concept of power and legitimacy. Students will examine the state as a construct as well as case studies of the theories under discussion
An extractive economy is a resource-based economy dependent upon harvesting or extracting natural resources for sale or trade. They are most often associated with colonial economies, whether in formal or informal empires. This course examines extractive economies from a policy perspective, emphasizing the impacts and problems associated with such economies.
This course examines the energy policy of the United States from the Industrial Revolution to the present. Special attention is paid to the transition between fuels, government intervention and regulation, and the role of technological innovation.
Elective Course Descriptions - Continued
This course examines the environmental history of the United States since the colonial era. Special attention is paid to shifts in American attitudes toward the environment and the resulting policies stemming from these shifts.
This course examines the government's role in the funding and development of science and technology. While government has long had a role in the furtherance of scientific research and the development of technology, World War II greatly enlarged and accelerated that role, especially in the United States
Special Topics in Policy Studies allows the Public Policy Program to offer courses that investigate areas of inquiry and specialization not otherwise covered by the electives. These courses are offered as demand requires.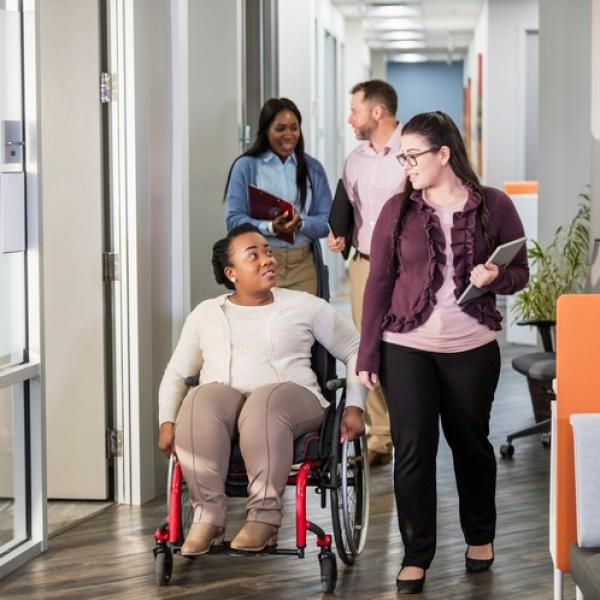 4 + 1 Program
High-performing undergraduate students from all majors may apply for an accelerated MPP. Our 4+1 Program allows students to complete their undergraduate and graduate degrees in as little as five years while saving significant money in graduate tuition.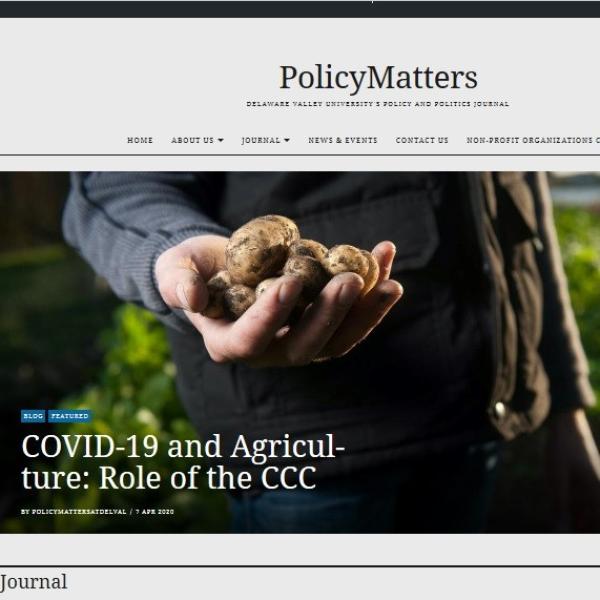 Policy Matters Blog
Policy Matters is the Delaware Valley University, Graduate Policy Studies Program's premiere, nonpartisan, policy and politics journal dedicated to original articles, interviews, research, reviews and posts by DelVal undergraduate and graduate students, faculty and affiliates. Written and published solely by Delaware Valley University students and faculty for local, state, national and international readers, it publishes articles on a wide variety of policy and political matters, ranging from issues of Animal Welfare to issues of Social Justice and Sustainability to issues involving Zoological Systematics and beyond.
Frequently Asked Questions
You can take the program at your pace, so either option is available. However, you must complete your courses within six years from when you started. And, yes, our students work both full and part-time while enrolled in the program.
The MPP program is now offered fully online. You can also take classes on our campus in Doylestown on weekday evenings from 6 to 9 p.m.
A great feature of the program is that every student chooses from several options, based on your career interests and experience level. Customize your degree to suit your specific academic and professional goals and interests.
Students are admitted to begin their studies in either the fall or spring semester. Completed applications are reviewed on a rolling basis and we encourage you to apply as soon as possible. You can apply by clicking the green apply now button on the upper right side of your screen.
A completed application form and non-refundable application fee
A bachelor's degree from an accredited institution documented on official transcripts
Three letters of recommendation
Personal statement addressing your personal and career goals
Current resume or curriculum vitae
In addition to the items listed above, international students need to have non-U.S. transcripts evaluated by WES (World Education Service), and acceptable TOEFL (Test of English as a Foreign Language) scores.
We may consider transfer of up to six graduate credits from an accredited college/university under certain conditions, including course content, grade point average, and how recently the course was completed. Please discuss this with a program director prior to taking courses elsewhere. If you have previous coursework, please submit an official transcript for review.
Links to FASFA and institutional forms can be found on the financial aid website. If you are applying for federal or state financial aid, the Delaware Valley University institutional code is 003252. You can contact an aid counselor at 215.489.2272 or finaid@delval.edu. We also have very limited graduate assistantships available, which you may discuss with the program director.