The Alumni Achievement Awards are designed to recognize outstanding alumni who have devoted time, energy and resources to the betterment of the University and alumni-at-large, participated actively in the community and professional organizations, and has made a significant contribution in a chosen field. The award seeks to honor and extend the traditional ideals of Delaware Valley University by acknowledging alumni whose activities have been consistent with our founding principles.
Mission of Delaware Valley University 
We are inspired by the ideals of our founder, who in 1896, emphasized respect for all people and ideas, who honored knowledge with practice, progress and the common good. Our historical commitment to experiential learning integrates theory and practice and prepares undergraduate and graduate students to meet the challenges of a complex global environment and to engage in lifelong learning. We provide students with the requisite skills and a spirit of inquiry that enrich and inform their lives, prepare them to pursue meaningful careers, and fulfill societal, community and family responsibilities.
Awards are presented for excellence in Animal Science, Business Administration/Humanities, Plant Science, Science, Secondary Education, Graduate Studies, National Farm School (graduates prior to 1950) and the Arthur Brown Distinguished Service Award. The University President also presents the President's Distinguished Alumni Award.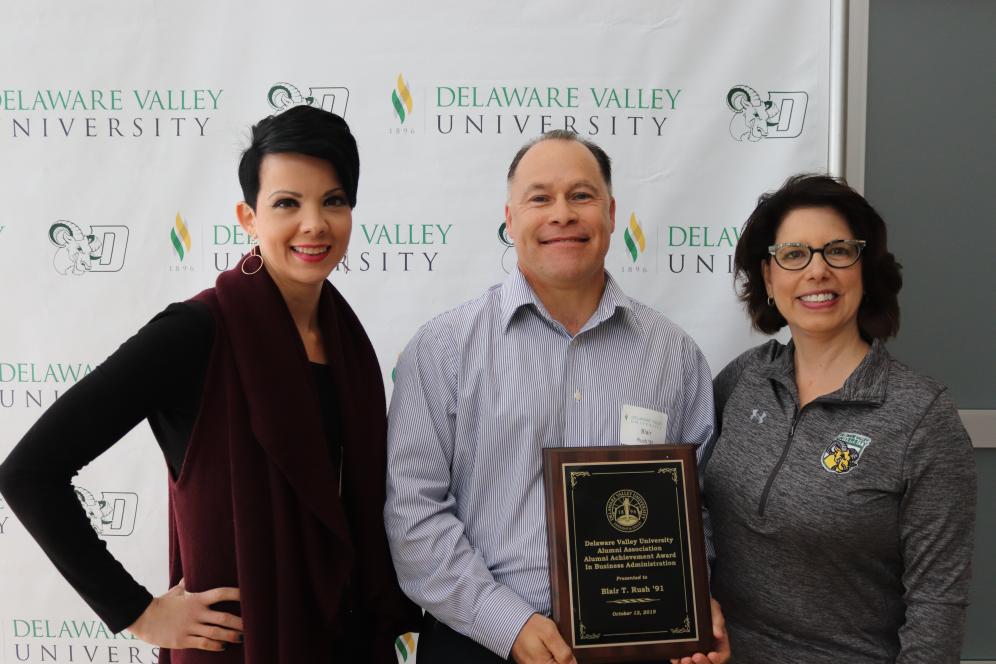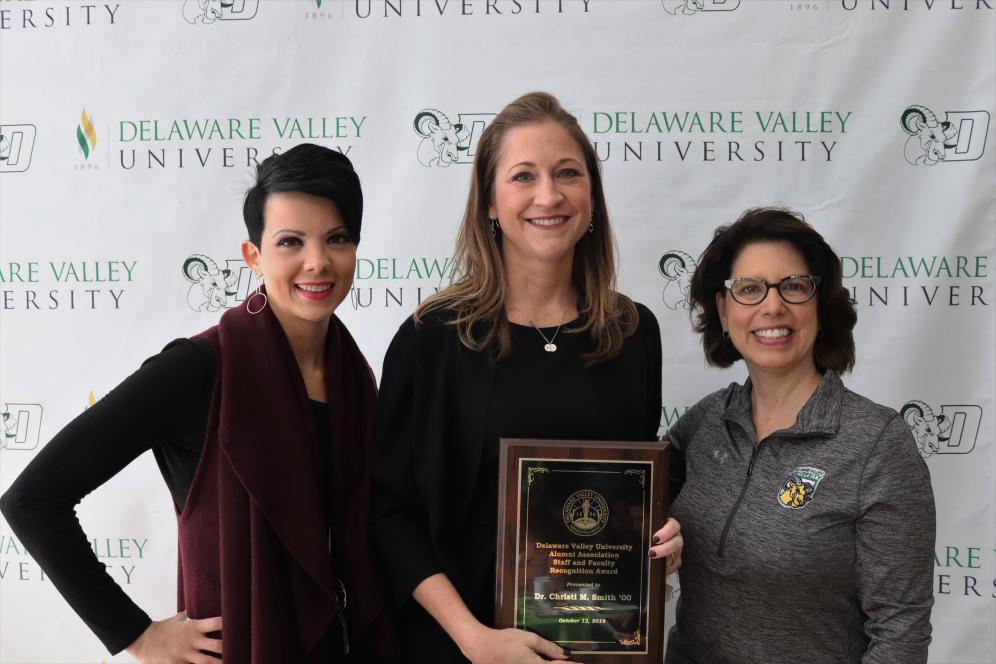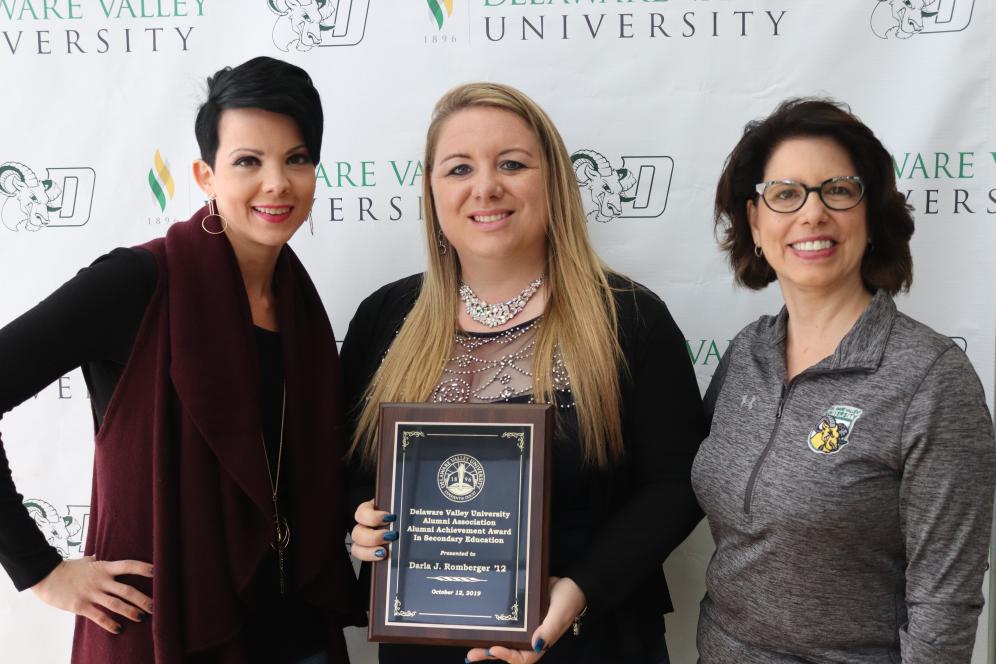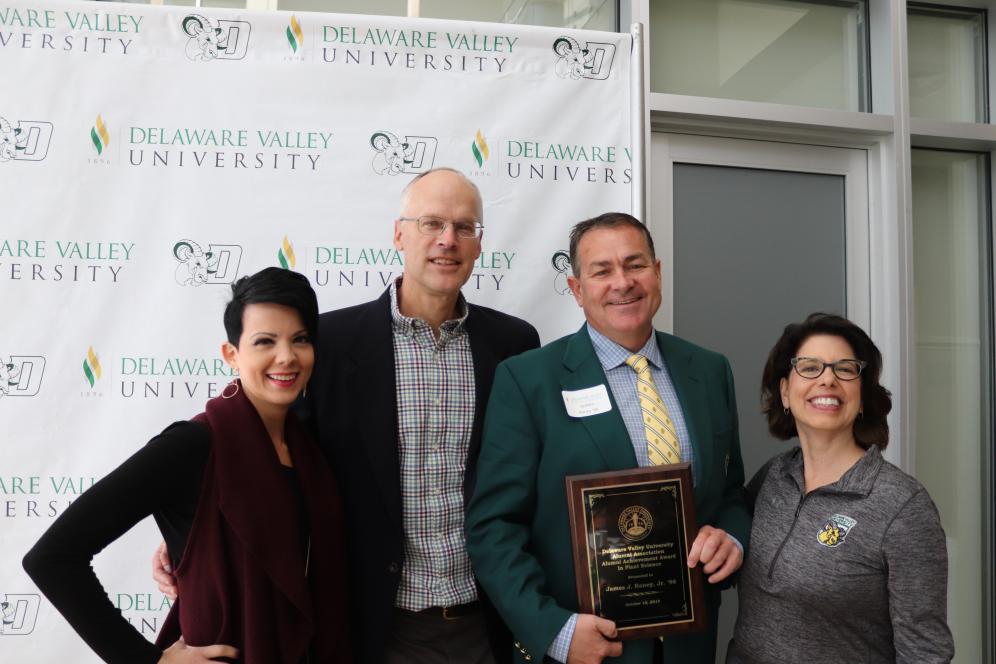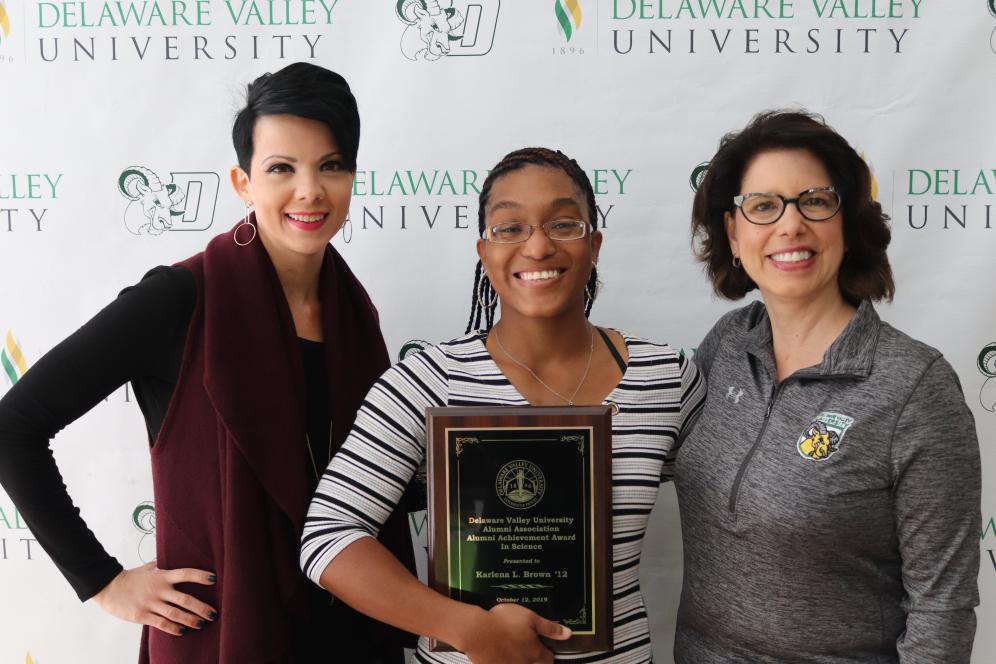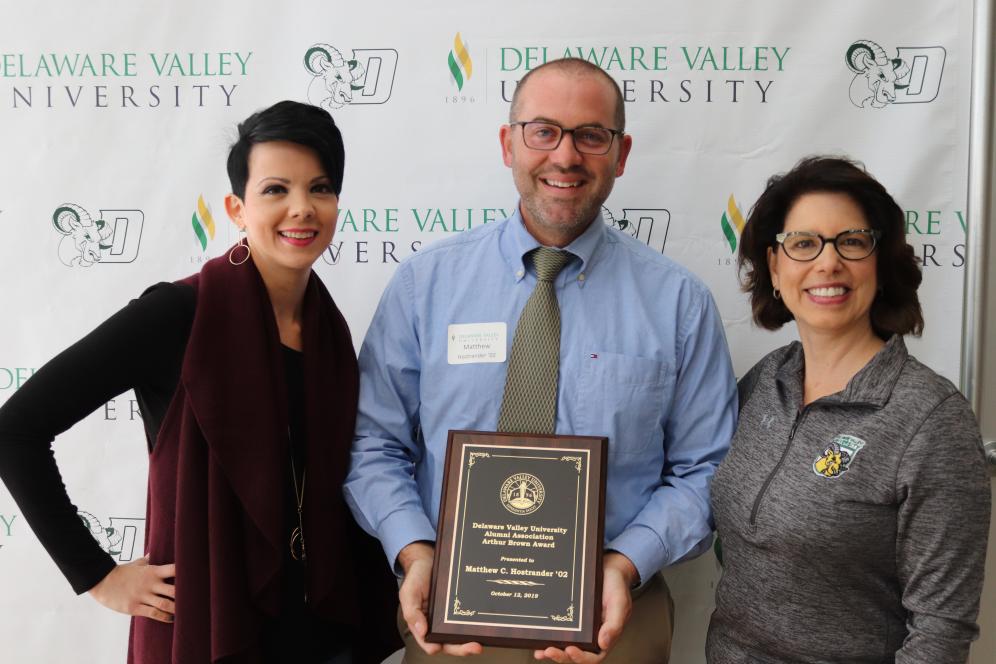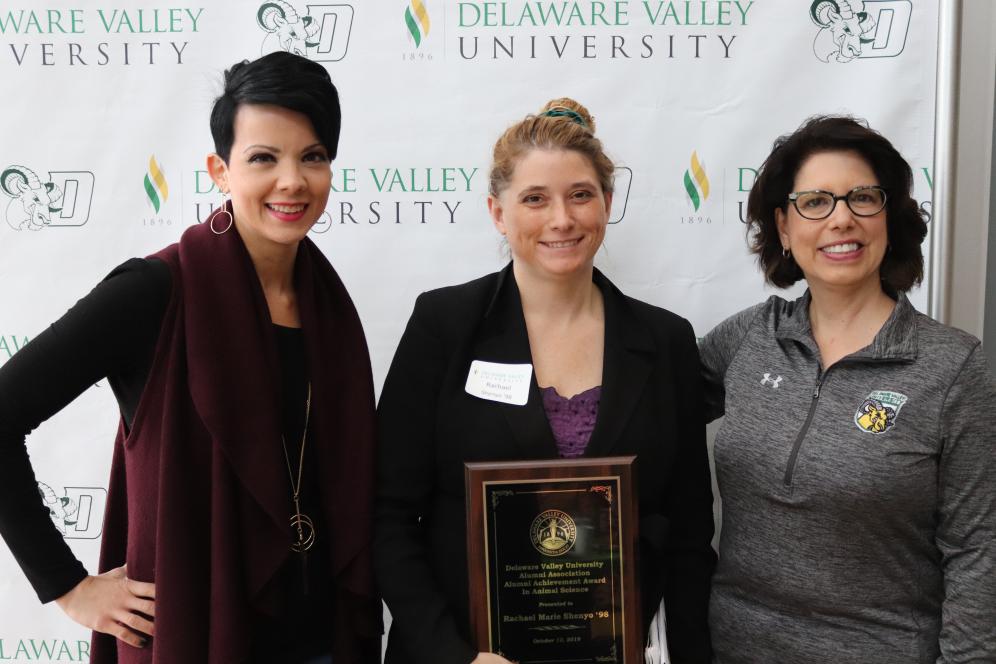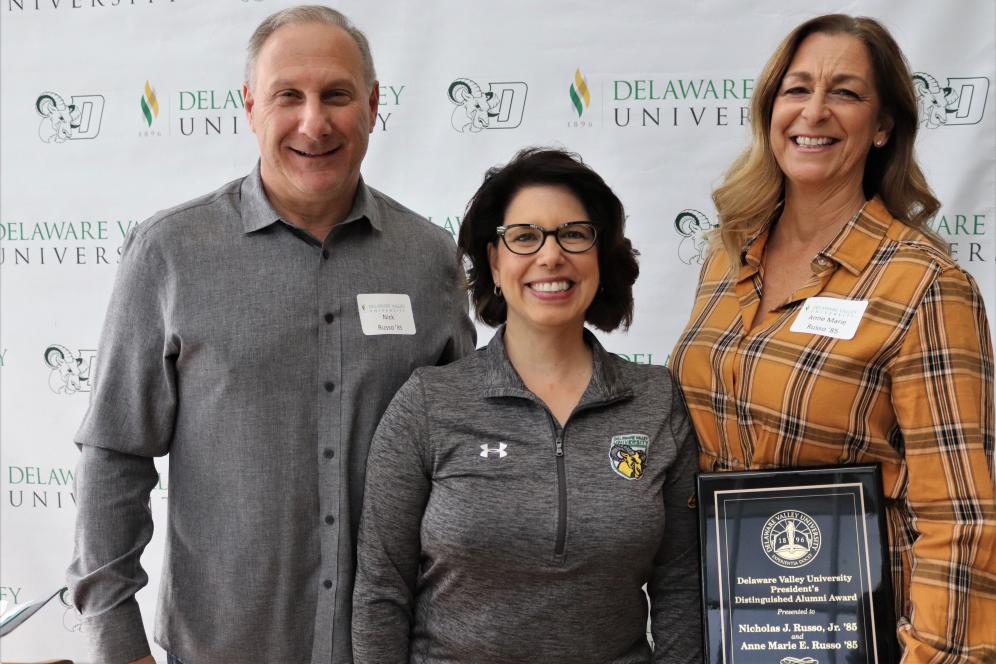 2019 Alumni Achievement Awards
Nicholas J. Russo, Jr. '85 and Anne Marie Russo '85 
Nick Russo and Anne Marie Russo met in 1981 at DVU (then DVC). Nick played 4 years of varsity football, and Anne Marie was involved in all things Aggie from the start, including student government. Having earned Bachelor's degrees, Nick in Food Science and Anne Marie in Ornamental Horticulture, they married in 1986 and settled just outside of Pittsburgh. Nick enjoyed a 30-year career with Unilever that took them throughout the US. They had three children along their way, Nick III, Renae and Gina, and an active family life. Now settled in New Jersey, Nick currently works for Upfield Foods. They like to stay active and connected to their Alma mater. "We return as often as we can to cheer on our Green and Gold, help where we see need and encourage other alumni to do the same." 
Nick and Anne Marie have been avid supporters and ambassadors of DelVal, attending and hosting events, serving on volunteer committees such as the Golf Classic Committee and Friends of Football and assisting with alumni engagement campaigns on social media in an effort to increase awareness of DelVal's current initiatives as well as inspire other Aggies to support through philanthropic efforts. 
Matthew Hostrander '02
Matthew Hostrander grew up in Williamsport, Pennsylvania on a hobby farm of 100 acres. He spent most of his time outdoors doing chores around the house or the farm. Mr. Hostrander spent many days feeding their Hereford cows, clearing the fences, picking sweet corn, or bailing hay and stacking by hand. Hostrander graduated with an Agronomy and Environmental Science degree in 2002, specializing in soil science. He has been playing in the dirt his whole life and now he does it for work…what could be better? After college, he spent 15 years at Gilmore as the firm's soil scientist and is now working independently with another soil scientist and engineer out of Quakertown. Mr. Hostrander was on the Alumni Council for 12 years after graduation, and is currently a supporting member/advisor for DelVal's Small Business and Entrepreneurial Center. Hostrander finds it rewarding to give back time to my Alma Mater, especially to the current students. "There is no better way to understand how the real world works than to spend time next to a professional during class or a soil lab." 
Rudolph Loewenstein '42
Mr. Loewenstein was born in Germany, but left for New York City during the Nazi era at 15 years old, where he graduated George Washington High School in the same class as Henry Kissinger. A WWII veteran, he developed his own food delivery service when returning stateside, later working as a government meat inspector for two decades. Upon retirement, Mr. Loewenstein began volunteering with Labbok Kosher Meals-on-Wheels, delivering food to the elderly in his area. At 95, he hung up his car keys but remained involved on the coordination side. Mr. Loewenstein has been a member of his local congregation for 70 years. At different points, he became president of the congregation, among other positions, as well as being the only member selected as the synagogue's Man of the Year twice. Loewenstein was recently honored by New Jersey Governor Phil Murphy with the Jefferson Award for Public Service. 
Blair T. Rush '91
Mr. Rush joined the Covenant Bank team in April 2016 as President & Chief Operating Officer. Prior to this time, he was the Eastern Region President with National Penn Bank. Prior to National Penn, Mr. Rush was an Executive Vice President with FirstService Bank. He was one of four original officers of the de nova FirstService Bank which opened for business in July 1995. Prior to FirstService Bank, Mr. Rush was a Vice President with CoreStates and Bucks County Bank where he started his forty-year banking career. Mr. Rush enjoys being very active in his community serving on numerous boards. Presently, he serves on the following boards: Central Bucks County Chamber of Commerce, Past Chairman of the Board; Grand View Health Foundation Board of Trustees, Finance and Quality Steering Committee Member; North Penn Boys & Girls Club; Washington Crossing Council – Boy Scouts of America Board President; St. Andrew's U.C.C. of Perkasie, Chairman of Finance Committee. Mr. Rush is currently a member of the PA Bankers Association Board of Directors. He is the Chairman of the Government Relations Policy Committee and Vice Chairman of the Advocacy Committee. He is also a member of the Risk Management Association, the North Penn Rotary Club and is a Rotary Foundation Paul Harris Fellow, Delaware Valley (College) University's 1896 Society and Doylestown Country Club. 
Darla Romberger '12
Ms. Romberger has served as the Agriculture Teacher & FFA Advisor at Cumberland Valley High School in Mechanicsburg, PA since 2013. She is certified to teach 7 Curriculum for Agricultural Science Education (CASE) courses and has also served as a CASE Lead Teacher to train other teachers across the nation. Since 2013, Ms. Romberger has mentored 11 State Champion FFA teams, 24 FFA State Proficiency Award winners, 2 State FFA Stars, 60 Keystone FFA Degree recipients, 12 American FFA Degree recipients, and 2 student teachers. For these efforts, she was named the Pennsylvania and NAAE Region 6 Outstanding Young Member in 2016. Ms. Romberger obtained National Board Certification in Career & Technical Education in 2018 and is currently facilitating a new cohort of Cumberland Valley teachers through the certification process. In June 2019, she was elected President of the Pennsylvania Association of Agricultural Educators (PAAE) and continues to be involved with agricultural organizations such as Farm Bureau, Sigma Alpha Alumni, FFA Alumni, and Schuylkill County 4-H.
James Roney '96
James Roney has been the Director of Golf Courses and Grounds at Saucon Valley Country Club since 2005. Before joining SVCC, Mr. Roney held the position of Golf Course Superintendent at Sand Ridge Golf Club in Chardon, Ohio. Mr. Roney started his career in Golf Course Management at an early age, working at various suburban Philadelphia clubs such as Rolling Green and Merion Golf Club. Mr. Roney attended Delaware Valley University, receiving a Bachelor's Degree in Agronomy and Environmental Science, with a specialization in Turf Grass Science, in 1996. He is a firm believer in the ideal of employee growth and development through mentoring and coaching. He has developed a mentoring program that has led to the placement of 31 Assistant Superintendents to their first Head Golf Course Superintendent position, several of whom are Aggies! Mr. Roney has served on DelVal's Golf Classic Committee benefitting the Golf Classic Endowed Scholarship Fund. He sponsored the annual Golf Classic at Saucon Valley Country Club from 2009 through 2017. Mr. Roney continues to actively support the University as a member of Dr. Doug Linde's Turfgrass Advisory Committee as a mentor to students. He hosts several class field trips annually, guest lectures and offers employment opportunities for student interns and graduates. Since graduating Delval, he has recruited, hired, and mentored 35 Aggies in the Golf Course Management profession. 
Rachael Shenyo '98
Rachael Shenyo is a 1998 graduate of the Small Animal Science Program of Delaware Valley College of Science and Agriculture (now Delaware Valley University). She has used her degree to work professionally as an environmental educator, research technician, animal science Peace Corps volunteer, and research ethics specialist. She was one of the US's youngest IACUC chairs. She is currently a master's degree candidate at the University of Connecticut, and the start-up director of the international climate adaptation research, innovation, and education center "Alticultura" in Xecaracoj, Guatemala. Ms. Shenyo is fully bilingual and recognized as a top specialist in the climate field in Guatemala; with her work, she is designing Central America's first certified regenerative agriculture research and certification program using livestock to restore degraded ecosystems and soils. Her work has been featured in the New Yorker, in national and international seminars, in local publications, Guatemalan national radio, and more. Additionally, she is an award-winning international writer, poet, and artist; professional photographer and translator; bilingual university professor; and life coach for social entrepreneurs and youth. She currently lives and works in Quetzaltenango, Guatemala.
Karlena L Brown '12
In 2008, while originally interested in building fireworks, Ms. Brown began her educational pursuit in chemistry at Delaware Valley University. In 2012, Ms. Brown was the first African American female to graduate from Delaware Valley University with a Bachelor's degree in chemistry and minor in environmental science. Well versed in technical lab skills, Ms. Brown was offered a chemistry teaching assistantship with full tuition reimbursement by American University in the fall of 2012. In addition to graduating from American University with a Master's degree in Analytical chemistry in 2014, Ms. Brown again was selected to represent American University as a spokesperson for their chemistry department. Currently, Karlena L. Brown is employed with Solenis, LLC – a specialty chemical company – located in Wilmington, DE. As a practicing analytical chemist, Scientist III, she is one of twelve individuals responsible for paper quality testing and the interpretation of paper quality results for the Central and North American Region. In 2016, Ms. Brown represented Solenis, LLC in a Chemical & Engineering News Article published by the American Chemical Society. Other accomplishments include publications in the Journal of Marine Systems (2011) and Polymer Degradation & Stability (2014); along with a 2017 Solenis Outstanding Achievement Recognition Award (SOAR). In her free time, she volunteers at a local blood bank in Wilmington, DE and mentors elementary children at the East Side Charter School. 
Ann Marie Vaughn, Ed.D. '17
Dr. Ann Marie Vaughn is currently the Principal of Clear Run Intermediate School, in Pocono Mountain School District. She is part of the first cohort of Doctoral students in Educational Leadership from Delaware Valley University, who graduated in December of 2017. She received her B.S. in Elementary Education from the Pennsylvania State University, and holds certifications in Elementary Education, ESL, Middle Level Math, and Middle Level Science. She holds two M.Ed.'s from Wilkes University in Classroom Technology and Educational Development and Strategies. Dr. Vaughn served as a teacher in the Nazareth Area School District for 10 years prior to coming to the Pocono Mountain School District to continue her Administrative career. Since coming to the Pocono Mountain School District she has served as the Assistant Principal for West Junior High during the 2018 - 2019 school year, and is now the Principal of Clear Run Intermediate School for the 2019 - 2020 school year. Dr. Vaughn lives with her husband, Erick, and three children in Easton, PA. 
Christi Smith, Ph.D. '00 
Dr. Smith holds a Ph.D. in Public Safety with a specialization in Criminal Justice from Capella University, in addition to two other degrees in criminal justice. She is currently an Assistant Professor in the criminal justice department and the academic director of the Master of Arts program in criminal justice at DelVal. Christi joined Delaware Valley University after more than a decade in probation/parole and community-based corrections, with specializations in Drug Courts, domestic violence and mental health. Dr. Smith is a Domestic Violence Investigator for the County of Bucks and continues to support programs of community outreach and restorative justice initiatives. Dr. Smith also served as the Treasurer for the Montgomery County Commission on Women and Families from 2012-2015. Her current research focus includes burnout among criminal justice professionals and efforts to mitigate the stress and burnout associated with practitioners and regularly presents at national and regional conferences, including but not limited to NEACJS, ACJS, and MASCA. She serves on the IRB, Emergency Management Planning, and Women's Summit Committees at DVU, in addition to other project-based search committees. In her free time, Dr. Smith enjoys spending time outdoors and traveling with her husband, Brad Smith, and their two children, Hannah and Lukas Smith.
Contact
Development and Alumni Affairs
700 E. Butler Avenue, Doylestown, PA 18901