Our admission process will be your first encounter with a key DelVal advantage: personal attention. From Admissions through Graduation Day, you'll always be treated like the unique individual you are — not a number.
---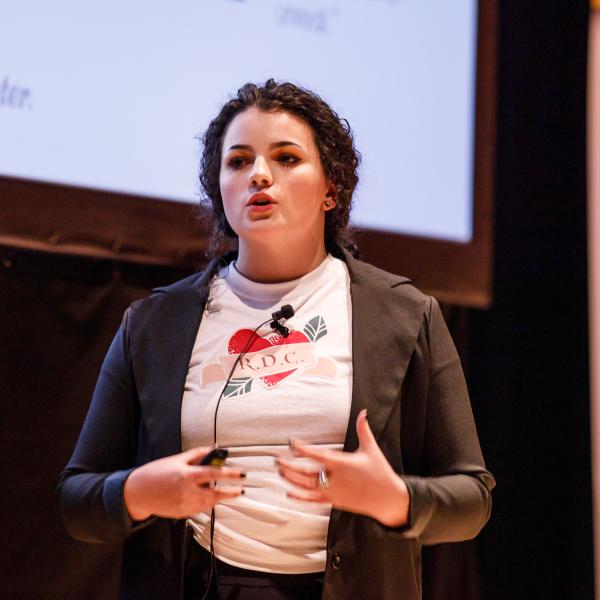 Test Optional Admission
DelVal is now Test Optional! 
A Delaware Valley University student pitches a business idea to a panel of judges at Spark Bowl an annual competition.
Kathy Payne
Vice President of Enrollment Management
---
Thomas Speakman Executive Director of Admission
Territory: Bucks County, PA
215.489.4343, thomas.speakman@delval.edu
---
Angela Reckner Administrative Coordinator for Enrollment Management
215.489.2203, angela.reckner@delval.edu
---
Thomas O'Connor Associate Director of Admission, Coordinator of Transfer Recruitment
Territory/Students Served: Transfer students
215.489.4829, thomas.oconnor@delval.edu
---
Melanie Spratt Associate Director of Admission, Coordinator of Recruitment Travel
Territory: Montgomery County PA, Honor students, Transfer students, AP & Dual Enrollment
Text or Call 215.544.2033, melanie.spratt@delval.edu
---
Maria Cabrera Senior Assistant Director of Admission, Coordinator of Multicultural and International Recruitment
Territory: Delaware State, Chester, Delaware and Philadelphia Counties, PA, International students
Text or Call: 215.544.2118, maria.cabrera@delval.edu
---
Massah Ezenekwe Assistant Director for Admission
Territory: South Central Pennsylvania Counties, Maryland
Text or Call: 215.489.2484, massah.ezenekwe@delval.edu
Ariel Wilburn Assistant Director of Admission
Territory: NJ Counties: Atlantic, Burlington, Camden, Cape May, Cumberland, Gloucester, Mercer, Ocean, Salem, Somerset
215.489.2296, ariel.wilburn@delval.edu
---
Susan Blazer Director of Recruitment Operations
Text or Call: 215.544.2250, susan.blazer@delval.edu
---
Anne O'Brien Data Coordinator
215.489.4994, anne.obrien@delval.edu
---
Danielle Bonacquisti Application Data Coordinator
215.489.4941, danielle.bonacquisti@delval.edu
---
Kaley Unger Admission Counselor
Territory: Northern New Jersey, New York State, New England States
Text or Call: 215.660.4430, kaley.unger@delval.edu
---
Maggie Kingsbury Admission Counselor
Territory: North Central Pennsylvania Counties, North Eastern Pennsylvania Counties, Western Pennsylvania Counties, Remainder of the USA, Virginia/DC and South, Ohio and West
Text or Call: 215.660.4606, maggie.kingsbury@delval.edu
---
Karen Humphreys Application and Transcript Coordinator
215.489.4942, karen.humphreys@delval.edu
---
Sylvia Hirsch Administrative Assistant
215.489.2211, sylvia.hirsch@delval.edu