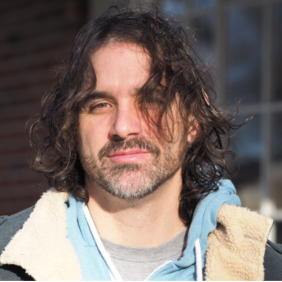 Brian
Lutz
,
Chair, Department of English, Associate Professor
Office Location: Miller Hall 100
Be a DelVal Storyteller: Dr. Brian Lutz Shares His Story
"You don't seem excited," he said.
"This is what I sound like when I am excited."  I had just earned my MFA and had temporarily moved back into my parent's house. I was unemployed and uncertain. Again. After I had earned my bachelor's degrees, I had worked a few jobs, earned a few promotions, quit a few times (including from a telemarketing job where, on the first day, I took my lunch and never came back), and traveled across most of the states and no small portion of the globe. After that brief and listless (though fun) epoch, I returned to school. My first masters class at Long Island University started at 9:30 on Tuesday, September 11, 2001. The professor hadn't watched the news in her effort to prep for class. She would spend the rest of the semester apologizing to us.
"Usually when I tell people they're more…I don't know, exuberant."
"You should see me at Christmas," I said, my voice still relatively flat. The person I was speaking to had called to inform me I had been named poet laurate of Bucks County. At the time, I was the youngest person ever to be given that honor, though I didn't know it then. And, I was excited, but I often hold in reserve my excitement around people I don't know. I have trained myself, like too many of us, against the embarrassment of expression, but also, I don't ever know in the moment what portion of joy is the right portion.  
I gave a reading at Bucks County Community College several weeks later. I read the few poems I had published at the time and some I was working on. The audience was kinder, perhaps, than I deserved. They seemed to enjoy what I had read.  During the Q&A that followed, someone in the crowd asked where I taught.
"I don't," I said. It's not that I had never thought of teaching—you must with my majors and degrees (English, history)—but I hadn't ever imagined I could do it well or that people might want to hear what I had to say.
Later, after the reading and during the mingling and conferring that always bookends such events, the Chair of the English Department at Bucks found me: "Do you want to?"
"I'm sorry."
"Do you want to teach?" Then she encouraged me to apply for adjunct work. I did. There and elsewhere, including DelVal. I worked a few years at that until a job opened up at DelVal. By then, I knew no other work would suffice, no other work would challenge me, encourage me, excite me like teaching.
---
Education and Scholarly Interests
Dr. Brian Lutz joined Delaware Valley University's faculty full-time in 2006. He is the current chair of the English department. He received a BA in English and in History from Bloomsburg University, an MFA in Creative Writing from Long Island University, and a Ph.D. in Literature and Criticism from Indiana University of Pennsylvania. In 2021 he was named Distinguished Faculty Member of the Year.
His scholarly focuses revolve around critical trends in contemporary literature with a special concentration on place and poetry. He regularly presents scholarly papers on geocriticism and spatiality in fantasy and science fiction narratives.
In 2003 he was named Poet Laureate of Bucks County. Dr. Lutz has published widely in various local, national and international journals including Slate, Cimarron Review, and Poet Lore. You can see some recent examples of his work by clicking here  and more examples by clicking here.
Since 2013, Dr. Lutz has been accompanying students on international trips as part of the University's Place Studies course. Place Studies introduces students to significant works of literature, history and culture particular to a geographic location to prepare students for experiencing the places described in novels, poems, historical documents, art and film.
Dr. Lutz teaches courses on poetry, contemporary literature, science fiction and fantasy literatures, as well as many of the department's writing workshop courses.
EDUCATION
Ph.D. in Literature & Criticism, Indiana University of Pennsylvania
M.F.A. in Writing & English, Southampton College of Long Island University
B.A. in English/ History, Bloomsburg University