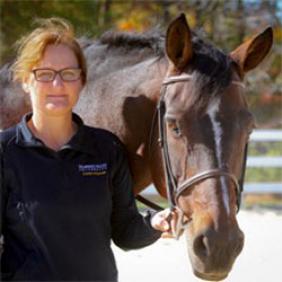 Stephanie
Barberra
,
Assistant Professor
Office Hours: Equine Center Building 2
Hours posted on the door vary by semester. Meetings available by appointment.
Stephanie Barberra joined the Delaware Valley University Department of Equine Science and Management in 1996. She has taught many courses including Balanced Equitation I and II , Basic Schooling and Intermediate Dressage. She has also been instrumental in preparing DelVal students for the British Horse Society Stage I and II exams. She holds a Level III Centered Riding® certification. She has memberships with the United States Equestrian Federation and the United States Eventing Association. Barberra is a volunteer for the United States Pony Club. Her wealth of experience is valuable to DelVal students who are pursuing careers in the equine industry.
Undergraduate Department
Equine Science and Management
EDUCATION
M.S., Teaching and Learning, Delaware Valley University
B.S., Animal Science, Equine Specialization, Delaware Valley University
A.S., Equine Science, Delaware Valley University