DelVal is a community of students, faculty, and staff who are committed to the environment, justice, and health for all people.
---
One Health is a multi-disciplinary approach that works locally, regionally, nationally, and globally to attain optimal well being for people and society, the environment and plants, and animals. Together, the three major components make up the One Health triad, and the well-being of each is inextricably linked to the others in the triad.
Upcoming Lectures:
March 3, Thursday, 6 p.m.
Introduction to Organic, Ecological and Sustainable Land Care
Richard McCoy, McCoy Horticultural
Co-Sponsors: Doylestown Environmental Advisory Council
March 17, Thursday, 6 p.m. 
Invasive Species Identification and Control for Homeowners and Local Strike Team 
Mike Van Clef, Program Director/NJ Invasive Species Strike Team
March 22, Tuesday, 6 p.m.
Anthropogeny- Explaining the Origins of the Planet Altering Ape
Pascal Gagneaux, UC/San Diego     
April 6, Wednesday, 6 p.m.
Thicker than Water: The Quest for Solutions to the Plastics Crisis
Erica Cirino, Science writer and artist, author of "Thicker than Water"
Co-Sponsors: Bucks County Audubon Society and Heritage Conservancy
April 28, Thursday, 6 p.m.
Defining Sustainable Agriculture Production in a Changing Climate
Chris Gambino, Delaware Valley University
Co-Sponsors: Bucks County Audubon Society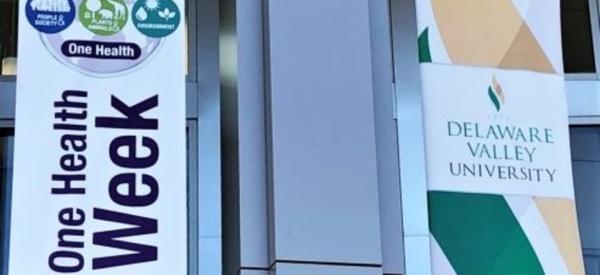 The One Health Seminar Series brings speakers to campus to address a variety of One Health-related topic. The lectures are open to the public at no cost. All are welcome!
For More Information Please Contact
Reg Hoyt
,
One Health Working Group Chair