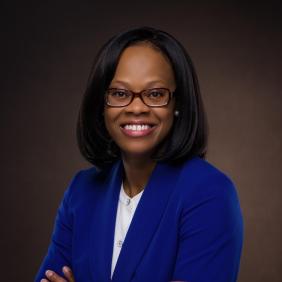 Gloria
Oikelome
,
Provost & Vice President for Academic Affairs
Dr. Gloria Oikelome joined Delaware Valley University (DelVal) as Provost and Vice President for Academic Affairs on October 3, 2022. Dr. Oikelome is an accomplished educator, scholar, and administrator who has cultivated a successful 20-plus-year career in higher education.
Dr. Oikelome is responsible for all aspects of academic affairs for the University including strategic planning, the Faculty, development and implementation of new programs, curriculum, and academic support for undergraduate, graduate and continuing and professional studies in DelVal's four schools of: Graduate and Professional Studies; Business and Humanities; Life and Physical Sciences; and Agriculture and Environmental Sciences. She is also responsible for Distance Education and Education Technology, the Registrar's office, Institutional Research, the Library, and Military and Veteran's Affairs.
Prior to joining DelVal, she served as the vice president of Academic Affairs at Montgomery County Community College (MCCC). Prior to her role at MCCC, she served in the roles of Dean of Health Sciences, Associate Dean of STEM, Director of Online Education, Director of Institutional Effectiveness, Assessment & Accreditation, and Coordinator of Institutional Research & Assessment, and Research Analyst across a diverse range of two and four-year institutions. Prior to stepping into academic leadership roles, Dr. Oikelome served as a faculty instructor of Biology, teaching across all levels.
Dr. Oikelome attributes her passion to inspire, mentor, and support students to committed faculty who saw her potential and challenged her to work tenaciously towards her academic goals. Her advice for students is that: "No matter what challenges you face in your educational experience, it's important to remember that those challenges do not define who you are or what your future will be."
Dr. Oikelome earned her Ph.D. degree in Organizational Leadership from Eastern University; her Ed.D. in Higher Education Administration from Immaculata University; her M.S in Science Education and Cell & Molecular Biology from Long Island University; and her B.Sc. in Biology from Bethel University.