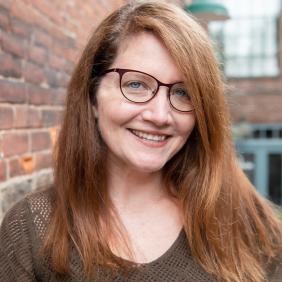 Marion
Callahan
,
Assistant Professor of Media and Communication
Be a DelVal Storyteller: Marion Callahan Shares Her Story
It's the second day of class in Reporting & News Writing, and my passion for finding public records in storytelling is unraveling at a rapid and seemingly uncontrolled rate. 
I start rambling about how to do criminal background checks, how students can gauge the financial health of nonprofit universities on IRS 990 forms, and - trying to tap into why they might care - how they can dig into health inspection reports of their favorite places to eat. 
Then, I look to the rear of the classroom. 
While some students jotted notes as fast as I could spew out search techniques, two others were huddled over a single laptop, smiling and whispering.
Thinking I've lost them to the avalanche of data, I attempted to reel them. "Got something good there?" I asked.
Yes, they did. 
Within minutes, they pulled up the county's health inspection reports shedding light on all sorts of violations from where they typically grab lunch. Just like that, a story seed is planted. Fleshing it out with interviews - from multiple perspectives - will provide their audience with empowering information on how they can make better decisions about where they eat and may even spark action and improvements.
Getting the stories out through DelVal's student media (The Full360), video interviews, Instagram news reels and other platforms is a big part of what they'll do next, too. 
We talk all the time about how the media can empower and impact change for the better, but watching it begin to unfold on the second day of class was downright magical. 
At Delaware Valley University's media and communication program, we teach you how to write with authority, how to create digital media as a sports or public relations professional, how to create your own free website and how to master graphics arts great enough to seamlessly move into digital marketing/advertising jobs or bang out engaging, scroll-stopping social media posts. 
We watch our students pride themselves in finding and creating original content and eye-catching visuals. In learning and doing, they impact change, spark innovation and share the best media practices for the common good. 
It's the magical recipe we aim to master every day.
Experience
Marion Callahan is an assistant professor of media and communication. She continues to freelance for local news organizations, including The Bucks County Courier Times and other USA Today Network outlets in Pennsylvania. She also works as a photographer and media consultant for local nonprofits. She can be reached at marion.callahan@delval.edu.