A New Healing Garden for Veterans
---
Nicole Gonzalez '19, a U.S. Navy Veteran who is majoring in equine business and management at Delaware Valley University, had a chance to be a part of bringing a new healing garden for veterans to life on DelVal's campus. Gonzalez and a small group of student veterans provided ideas and input for the new garden, which was dedicated on Wednesday, Nov. 7. 
"They asked us to sit down and talk with the faculty who designed the garden about what we would like to see," said Gonzalez. "Instead of making it for us, they involved us in the process. I made suggestions about different colors and smells."
The University opened the new Veterans Healing Garden on campus with an informal dedication ceremony. At the event, a group of student veterans put the final touches on the garden.  
"The purpose of the new garden is to provide a quiet area for veterans to collect their thoughts and enjoy nature," said Kerr Smith, the University's director of military and veterans affairs. "It will provide a serene place for student veterans to go and, will also be open for all students to use."
Dr. Mingwang Liu, a DelVal professor who has a background in horticultural therapy, approached Smith about the idea of creating the garden for veterans. Nancy Minich, a DelVal faculty member who teaches students in the horticultural therapy certificate program at DelVal, designed the garden using input from student veterans. Minich is a registered landscape architect as well as a registered horticultural therapist.
An anonymous donor and a gift from the Class of 2018 provided the funding for the garden. 
"Choosing to contribute the class gift toward the garden was a show of support from the greater community of the school for the veteran community," said Smith.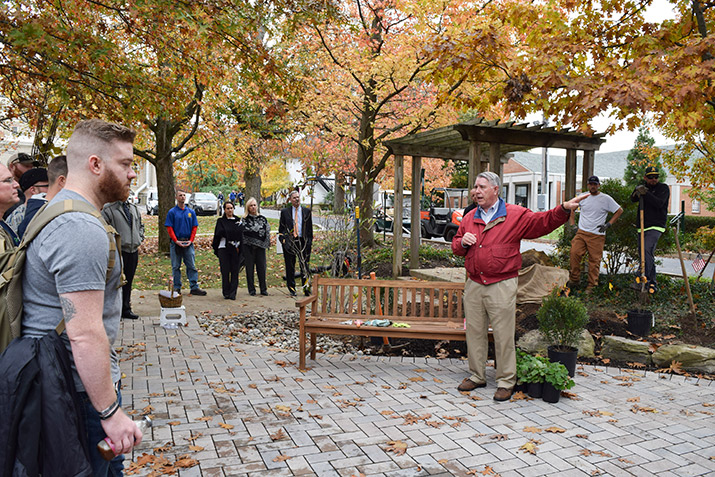 The plant material was selected to provide positive sensory stimulation. 
"We're putting in plants that have flowers and will provide points of interest while students are in class," said Minich of the design. "We went with attractive, fragrant flowers. I tried to choose plants that would bloom when students were on campus rather than in the summer. We worked hard to get plants that have a variety of colors, not just plain old green."
The garden will include magnolias at the entrance, which were chosen for their semi-evergreen foliage and smell. Redbud trees, which bloom very early with colorful flowers were also included. The garden will also include fothergilla and fragrant sumac to provide fragrance and fall color. 


Minich designed the shape of the garden to provide an enclosed space with an "embracing feeling" rather than a wide-open space.
Sustainable techniques are also a key part of the garden's design. The garden includes a porous paving surface, the first of its kind on campus, which allows for rainwater to go straight through the paving preventing runoff. 
Horticultural therapy students attended the dedication with the faculty to learn about the design process and the garden's different design elements. 
"A big part of design is asking the users what they want to see," said Minich, who hopes that lesson will stick with horticultural therapy students who attended the dedication. "We intentionally created extra sensory stimulation and designed the shape of the garden with the student veterans in mind." 
 
Watch a Video on the Garden