DelVal bachelor's degree completion students start classes at Delaware County Community College
---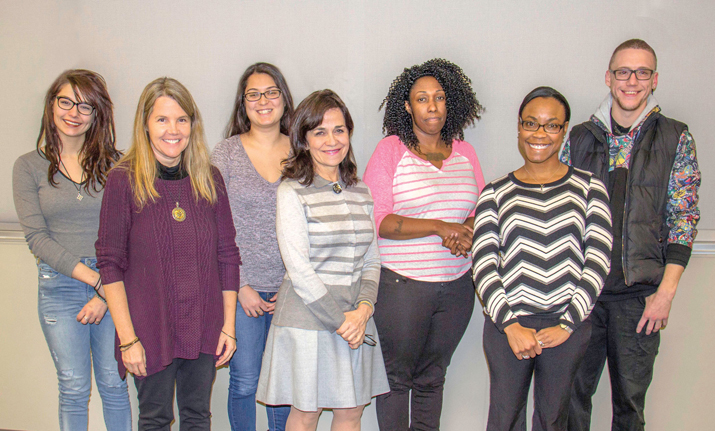 The first students to take advantage of the new DelVal bachelor's degree completion program on Delaware County Community College's Marple Campus started the program on Tuesday, Jan. 19. The students, who have all earned Delaware County Community College associate degrees, will be earning DelVal counseling psychology bachelor's degrees at a reduced rate right on the College's Marple Campus through the program. They attended an orientation at the community college's Marple Campus, located in Media, Pennsylvania. Working as a cohort, the group will complete their program as part-time evening students in eight consecutive semesters.  Students may take classes at one of two convenient locations – the Marple Campus in Delaware County or the College's Exton Center in Chester County.
"It is exciting to launch the first degree-completion cohort at Delaware County Community College," said Linda Lefevre, director of continuing and professional studies admission at DelVal. "The students are thrilled with the idea of completing their bachelor's degrees on a campus they are already familiar with. Many of the cohort students work full-time, so attending classes in the evening fits their schedules. The cohort model accommodates students with busy lives and provides a support network for their academic and professional careers."
The counseling psychology students are the first to take advantage of the DelVal degree completion agreement at Delaware County Community College, which was signed in April  2015. The agreement allows allows the College's associate degree graduates to earn a DelVal bachelor's degree without ever having to leave the community college's campus. This new on-site bachelor's degree completion program expands on the Guaranteed Dual Admission and Core-to-Core Transfer agreements that both institutions signed in June 2014.
The program is open to Delaware County Community College graduates who want to pursue DelVal bachelor's degrees in: counseling psychology, business administration, criminal justice and media and communication. Students pay a reduced tuition rate of $425 per credit with no additional fees. The agreement also allows the graduates to transfer up to 77 credits toward their DelVal bachelor's degrees. The first cohort of students to enroll will be studying counseling psychology. To be eligible for admission, students must have earned an associate degree from the College or, expect to have earned their degree prior to the start date of classes. They must also meet the minimum grade point averages required for admission into DelVal's specific programs. Additional students will have the opportunity to join the program in May 2016.
The counseling psychology bachelor's degree program prepares graduates for a variety of counseling careers. They leave the program ready to be active listeners and prepared to work with diverse populations.
"An undergraduate degree in counseling psychology is rare," said Dr. Allison Buskirk-Cohen, chair of the undergraduate psychology department at DelVal. "This degree gives students the specialized training they need to succeed."
Graduates of the counseling psychology bachelor's degree program have a variety of career options. Industries to consider include: health care and social assistance; professional, scientific and technical services; government; and educational services. Some DelVal alumni are working for residential group homes, pharmaceutical research companies or, community mental health organizations. Others continue their education at graduate school.
To learn more, please visit: delval.edu/dccc.