DelVal students prepare for the Philadelphia Flower Show
---
Students at Delaware Valley University are hard at work creating a living display about the impacts and value of wildfires on native ecosystems for the Philadelphia Flower Show, the largest indoor flower show in the world.
For this year's Flower Show, "Explore America," guests will be able to tour displays featuring iconic sites of natural beauty including exhibits honoring the National Park Service Centennial. Premier floral and garden designers are creating elaborate exhibits made of living flowers and plants featuring sites such as: Cape Cod, Valley Forge, Shenandoah, Yellowstone, Yosemite and many other parks and historic sites. The 2016 Show runs Saturday, March 5 through Sunday, March 13 at the Pennsylvania Convention Center in Philadelphia.
"This year's show is a chance to educate the public about the need to protect and care for natural resources and green spaces," said Michael Fleischacker, chair of DelVal's landscape architecture and environmental sciences department. "Participating in the Flower Show gives Delaware Valley University students a chance to gain real-world experience by displaying work alongside the country's top floral and garden designers."
The team creating this year's display is advised by Fleischacker and Assistant Professor Howard Eyre. The students working on the display include: Mark Constable '17, Kyle Grinestaff '18, Dana Kilgarriff '16, Jamie Kirschenstein '16 and Jake Peterson '17.
DelVal's exhibit, "CHARRED!: The Resurrection of a Habitat," looks at nature's ability to reclaim land after a wildfire.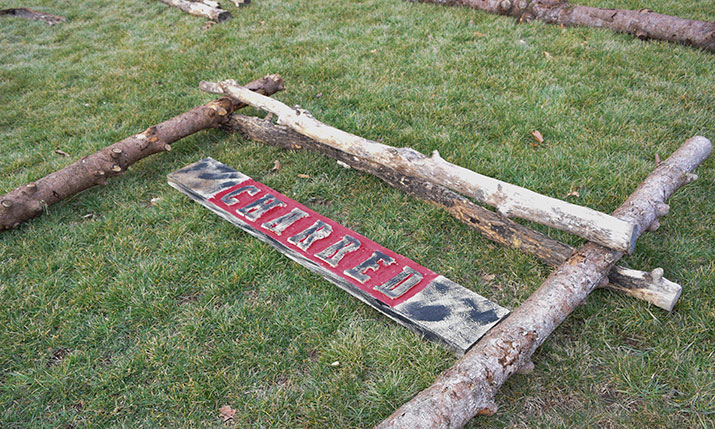 "Wildfires devastate native habitats, destroy personal property and pollute local watersheds," said the design team. "However, as the Phoenix rose from the ashes, so too can a diverse habitat resurrect from the flames. We're creating a display that will allow guests to stroll through the stages of succession and experience the process nature goes through as it brings life back into charred forests."
The DelVal team always tries to create interactive, educational experiences so that Flower Show guests can go into the displays, not just look and read. In addition to the five students taking the course, the team building the display is made up of other student volunteers, staff, alumni volunteers and faculty. Students in the Flower Show course are required to be part of the whole process and are graded on everything from the construction stage to being at the show to staff the exhibit.
"This is my first year participating," said Kilgarriff, an environmental science student working on the display. "It was an eye-opening experience. The amount of work and energy that goes into putting the display together is kind of amazing. It's like a puzzle. I'm interested in seeing the public viewing it and getting a chance to see their reactions since I've put a lot of work into it."

Kilgarriff is pleased to see this year's show focusing on protecting natural resources.

"I think it's a great theme," said Kilgarriff. "I love to camp and love to be outdoors so, anything we can do to protect the outdoors I'm a big fan of. The land is a treasure that needs to be protected."
Tickets: For more information, or, to get your tickets to check out this year's show visit: theflowershow.com. Proceeds from the event support the work of the Pennsylvania Horticultural Society.