Former Delaware Valley University President Dr. Joshua Feldstein Passes Away At 97
---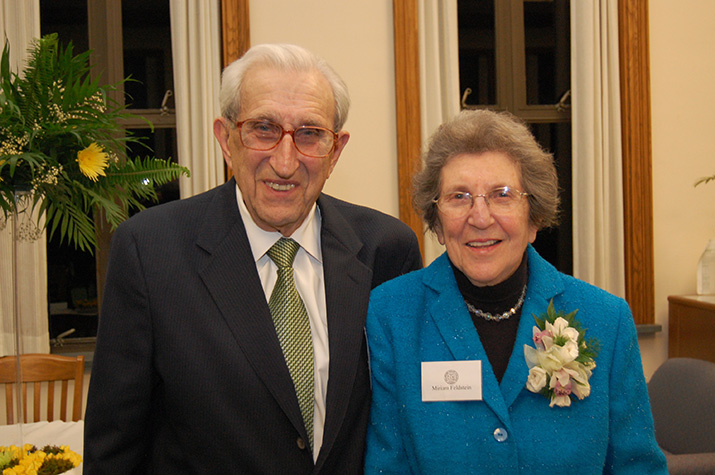 Dr. Joshua Feldstein '42-'52, a Delaware Valley University graduate who went on to become its president and one of the most seminal and beloved figures in its history, passed away on June 19 at the age of 97.

Dr. Feldstein's remarkable association with DelVal lasted nearly 80 years. It included stints as a faculty member, a department chair, an associate dean, a dean, a trustee and an emeritus trustee in addition to his time as a student and his tenure as president.
 "To generations of DelVal students, faculty, staff and alumni, Joshua Feldstein was Delaware Valley University," said current President Dr. Maria Gallo. "The entire University community is deeply saddened by his passing."
Known as a person who valued honesty and loyalty, and possessed of a sincere desire to help people, Dr. Feldstein made small classes and personal attention hallmarks of the DelVal educational experience. Even as an administrator, he made time to teach classes. He was a valued counselor to students and kept up with alumni long after they left campus.

 "Our students are our life's blood," he once said, "and our alumni are our claim to fame."

 As president, Dr. Feldstein advocated for access and inclusion. He helped admit the first women to DelVal in the 1960s and increased the number of women on the faculty.

 "To teach is to mold minds and to influence people forever," he said. "If you don't extend an opportunity to people, or exclude them from an opportunity, they will never be able to accomplish what they could."

Born in Belarus in 1921 and raised in Lithuania, Joshua Feldstein graduated from the First Hebrew Private Gymnasium and was attending the School of Engineering of the University of Lithuania when his father, a highly regarded educator, sent him to the United States to gain a college education and to escape the looming threat of Nazism. He was advised to spend a year in a small school, where he could become acclimated to the American way of life more quickly than he could at a university, where there would be large ethnic populations. At the age of 17, Joshua traveled alone from Lithuania to Doylestown and began his days at the National Farm School, as DelVal was known at the time.

He intended to stay at the school for about a year and then enroll at the Massachusetts Institute of Technology to continue studying engineering. He received no news from home. Hitler had invaded Lithuania, and Joshua did not know if he would ever see his parents or older brother again. He stayed at the Farm School, graduated with a degree in horticulture in 1942, and continued in a one-year postgraduate program in agricultural mechanics. It was only after the war that he learned that his family had been murdered, victims of the Holocaust.

He joined the instructional staff at the National Farm School and earned a second bachelor's degree in 1952 after it became the National Agricultural College. While still working for the College, he attended Rutgers University and earned an M.S. in horticulture in 1956 and a Ph.D., also in horticulture, in 1962.

Dr. Feldstein continued working for his alma mater, first as an instructor, then as an assistant, associate and full professor, chair of the horticulture department, chair of the plant science division, and associate dean and dean of the College. In 1975, he was named the College's seventh president, a position he held for 12 years. At his retirement, Dr. Feldstein was designated president emeritus and appointed a member of the board of trustees. He was called upon twice by the board to serve as interim president.

As president, Dr. Feldstein strengthened ties between DelVal and Bucks County. He also introduced new academic majors, including agribusiness, and built new athletic and academic facilities. These included the Student Center, James Work Memorial Stadium, the Kenneth W. and Helen H. Gemmill Center for Animal Husbandry, and the Sydney Markovitz Equine Facility. He oversaw improvements in computer facilities in the Feldman Building, the addition of laboratory and classroom space to the greenhouse complex, and renovations to the Allman Building, and helped secure the donation of the Roth Farm, which is now DelVal's Roth Center for Sustainable Agriculture.

During Dr. Feldstein's terms as interim president, DelVal built additions to the James Work Gymnasium and James Work Hall and constructed the Arthur Poley Greenhouse Complex. Dr. Feldstein was also responsible for the start of construction on the addition to the Mandell Science Building, which includes the Jefferson Center. 
 
Dr. Feldstein earned many awards from DelVal throughout his career, including the Arthur Brown Award (1970), the President's Distinguished Alumni Award (1987), the Staff and Faculty Appreciation Award (2013), an honorary degree (2014) and the National Farm School Award (2017). The Student Government Board selected Dr. Feldstein for a faculty award in recognition of his impact on students' lives, and the University named the Student Center courtyard and the horticulture science center in his honor. 

A passionate supporter of DelVal, Dr. Feldstein cheered on the Aggies at every home football game for more than 70 years and wrote two volumes of "Evolution of a Unique Institution," a history of the University.

In 2011, more than 200 guests attended Dr. Feldstein's 90th birthday celebration on campus. Local government leaders proclaimed the day "Joshua Feldstein Day." The Bucks County delegation of the Pennsylvania House of Representatives provided a citation for the event. Dr. Feldstein also received a letter from former President Barack Obama and an American flag flown over the Capitol to mark his birthday.

In 2014, the Philadelphia Martin Luther King, Jr. Association for Nonviolence selected Dr. Feldstein as a drum major honoree for the category of education. He received the American Society for Horticultural Science's Distinguished National Undergraduate Teaching Award, as well as recognition as a Distinguished Citizen of Bucks County by the county's commissioners.

In 1942, Dr. Feldstein met his wife, Miriam, on a blind date on campus. They were happily married for 70 years before she passed away in 2015. He is survived by two sons, Ted Feldstein (Diane) and Dan Feldstein '84, whose wife, Linda Feldstein, works in public safety at DelVal, and by a granddaughter, Elise Feldstein. In addition to his wife, parents, and brother, Dr. Feldstein was predeceased by a sister. 

When asked how he wished to be remembered, Dr. Feldstein replied, "He was never sorry for anything he did. He was only sorry for the many things he couldn't do."

A memorial service for Dr. Feldstein will be held on DelVal's campus in late summer or early fall.
The Feldstein Family Scholarship 
In lieu of flowers, donations can be made to The Feldstein Family Scholarship at Delaware Valley University or to a charity of the donor's choosing. 

To view photos and a video of Dr. Feldstein, and to leave condolences and remembrances, please visit delval.edu/feldstein.