More military veterans are choosing DelVal
---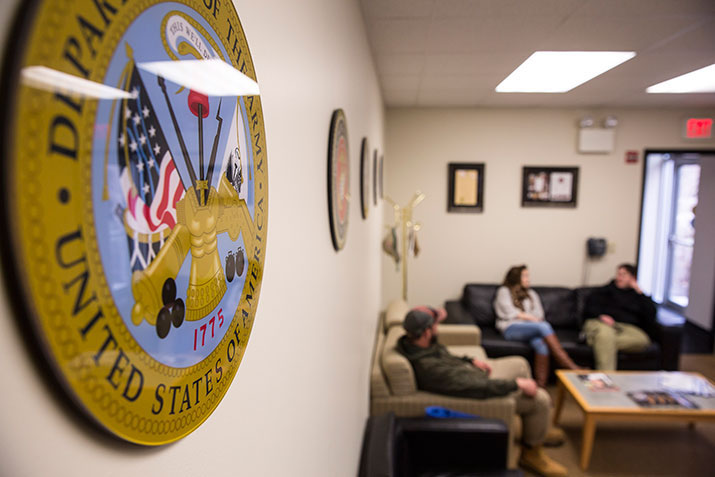 A record number of military veterans are choosing to attend Delaware Valley University. DelVal's record for the number of veterans enrolled at one time is 82 students. It hit this record in the spring 2016 semester, and in the fall semesters of 2014 and 2015. This represents a 10 percent increase in veteran enrollment when compared with the spring semester of 2015 and a nearly 20 percent increase over spring semester of 2014.
"This record enrollment is confirmation of DelVal's commitment to ensuring that the brave men and women who served our country get the opportunity to earn their baccalaureate degrees in a welcoming campus environment," said Dr. Bashar Hanna, vice president for academic affairs and dean of the faculty.
Six veteran students completed their degree requirements in December 2015. Two graduated cum laude and one graduated magna cum laude.
"Our student veterans are motivated and bring valuable experience and leadership skills to the University community," said Kerr Smith, director of military and veterans affairs. "They are the kind of quality students that any institution would want to attract."
Since the implementation of the Post-9/11 veterans' benefits in August 2009, more than 200 veteran students have enrolled at the University. These include veterans from every branch of the armed forces - Army, Navy, Marine Corps, Air Force, Coast Guard, Pennsylvania Army National Guard and the Pennsylvania Air National Guard.
The overwhelming majority (85 percent) of the veteran students use their Post-9/11 veterans' benefits education benefits and many of them have served combat tours in Iraq, Afghanistan or, both. The University participates in the VA Yellow Ribbon Program, imposes no limits on the number of Yellow Ribbon students and matches at the highest level in the Yellow Ribbon Program. DelVal was named a 2016 Military Friendly® School and came in at number 13 out of just 29 Regional Colleges in the North selected by U.S. News & World Report for its 2016 list of "Best Colleges for Veterans."
The University opened the Janet Manion Military and Veterans Center in September 2013. The Center houses a lounge, a dedicated study area and an office for the director of military and veterans affairs. Located in the middle of the campus, the Center provides a relaxed meeting place for veterans. The study area, a very popular feature with veterans, provides a quiet space to work on assignments, use the computers, or, prepare for an upcoming test.
"Most veterans are attracted to the school for its popular degree programs, the personal, small school atmosphere and the natural beauty of the campus," said Smith.
To learn more about programs for military and veterans at DelVal, please visit: delval.edu/academics/for-military-members-veterans.