New facility will prepare DelVal students to 'bring home the bacon'
---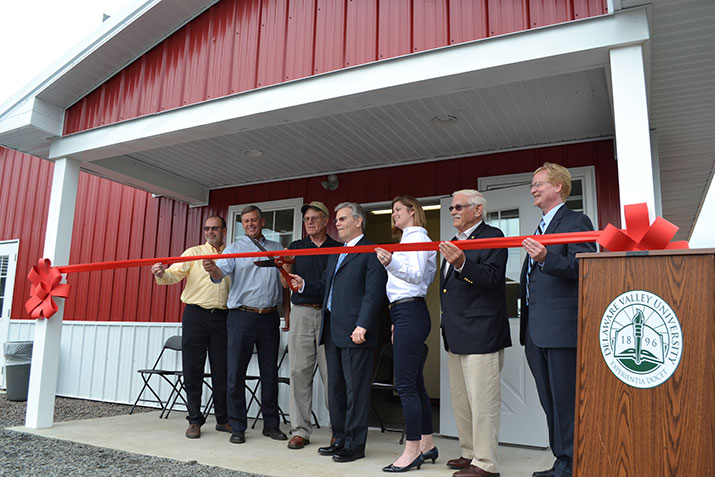 Delaware Valley University opened a new, $850,000 Swine Science Center on its main campus in Doylestown, Pennsylvania on Thursday, June 16. The Center will provide hands-on experience for the University's animal science students that will help prepare them for their careers. About 120 people attended the ribbon-cutting ceremony to celebrate the opening of the new center.
"This brand new facility will be a great asset to DelVal and will hopefully bring in more students who are passionate about the swine industry," said Stephanie Long '17, a DelVal animal science major.
Designed to mirror the facilities students will see and work in later in their careers, the Center includes: a 125-foot by 41-foot swine facility with a 36-foot by 36-foot connected office/instructional area. The swine facility offers: a loose sow gestation unit with electronic sow feeding, wash and boar collection area, a farrowing room, two nurseries, and three grower/finisher rooms. The instructional area includes: a bathroom, a locker room with a shower, a mechanical room, a storage room and an electrical room.
"Watching the building process of this facility, I have been very excited and anxiously waiting its opening," said Long. "I was raised working with swine at my family farm and I am passionate about and involved in the swine industry. The opening of this barn will broaden students' horizons and provide many great opportunities for myself and students alike who want to work in the swine industry after they graduate. With the introduction of new technologies in the barn, students will gain advanced knowledge of all that the swine industry has to offer, which will help prepare them to go right into the workplace after graduation."
Students will not only gain new hands-on opportunities in the classroom through the Center, they will also have a chance to participate in innovative research opportunities such as growth and feed trials because of the facility. The new facility will be used for classes starting in the fall 2016 semester.
The Center was made possible through the generous support of agricultural industry partners, alumni and friends of the University. The Clemens Family Corporation was the lead donor for the Center and contributed $250,000 to the cost of building it. Other major gifts came from: The George Alden Trust; Pennsylvania Pork Producers Council; Barry Blithe '68; Dr. James Diamond '61; and Smithfield Foods' Hog Production Division. 
The ribbon-cutting was attended by alumni and friends, donors, representatives from DelVal's academic programs and leaders in the pork industry. Speakers at the ceremony included: DelVal President Dr. Joseph S. Brosnan; Dr. Christopher Tipping, interim dean of agriculture and environmental sciences at DelVal; Tom Clemens, president of Clemens Development Group; Jeff Arner, a board member of the Pennsylvania Pork Producers Council and director of hog procurement for ALL Holding Company; and Dr. Sara Crawford, director of retail marketing and innovation for the National Pork Board.
College graduates with bachelor's degrees in agriculture-related majors are in high demand. According to a 2015 employment outlook report released by the USDA's National Institute of Food and Agriculture (NIFA) and Purdue University, an average of 35,400 students graduate annually with a bachelor's degree or higher in agriculture-related fields, 22,500 short of the annual number of available jobs.
 
Graduates of food, agriculture, renewable natural resources, and environment degree programs are only expected to fill about 60 percent of the projected annual openings.
Learn more about the job outlook for students majoring in fields related to agriculture.