The University is excited to announce the Commencement ceremony for the Class of 2024 will be held on Saturday, May 11, 2024. Additional information can be found below.  
Saturday, May 11, 2024 – 9:30 a.m.
Location: Robert A. Lipinski Field at James Work Memorial Stadium
The University will share announcements about severe weather-related changes to the Commencement ceremony via the website, email and social media.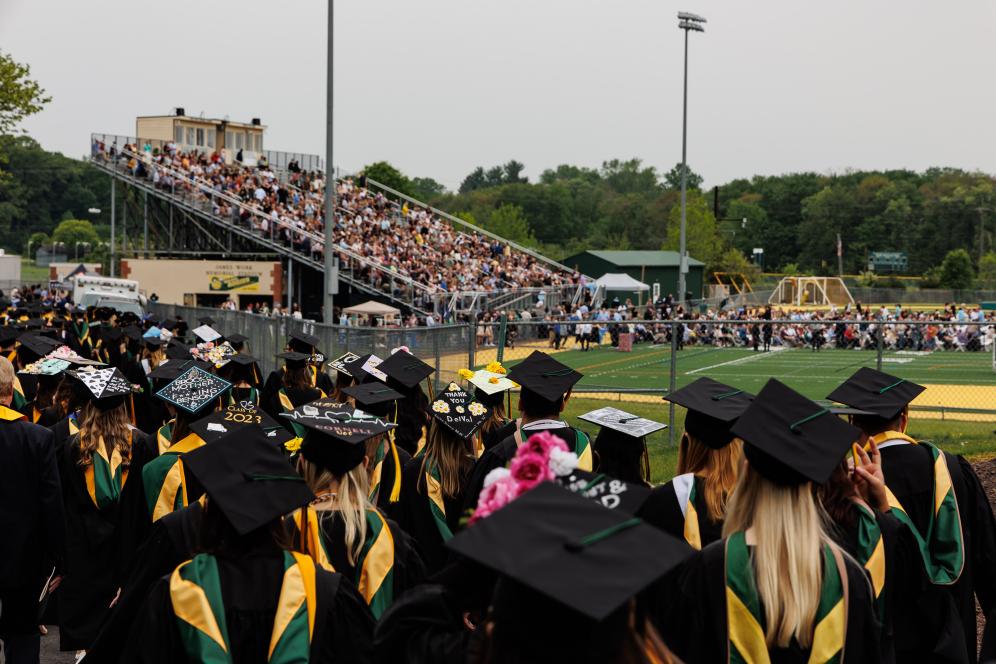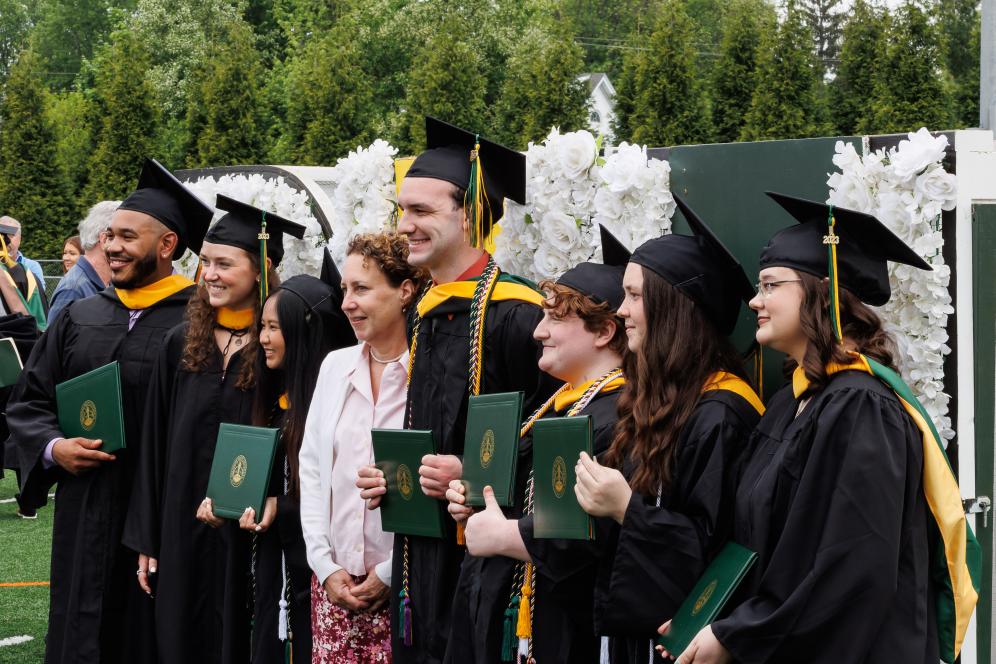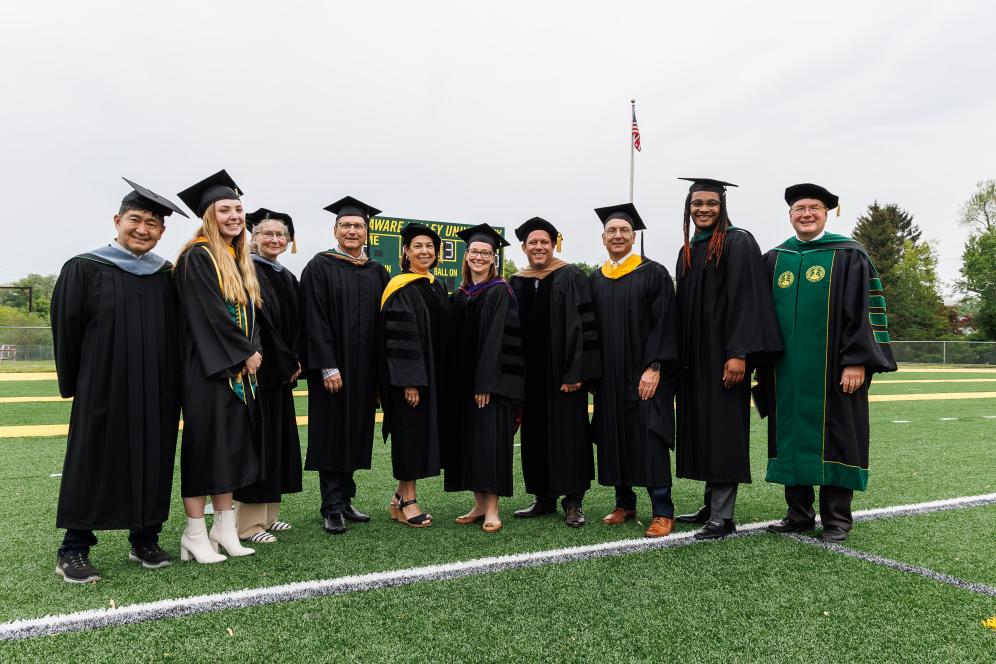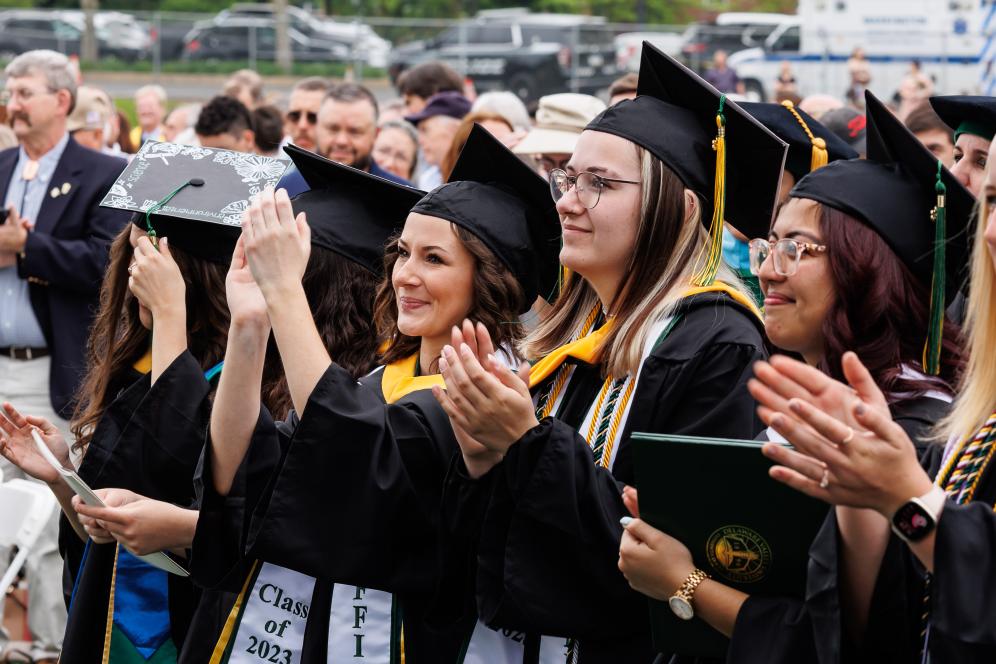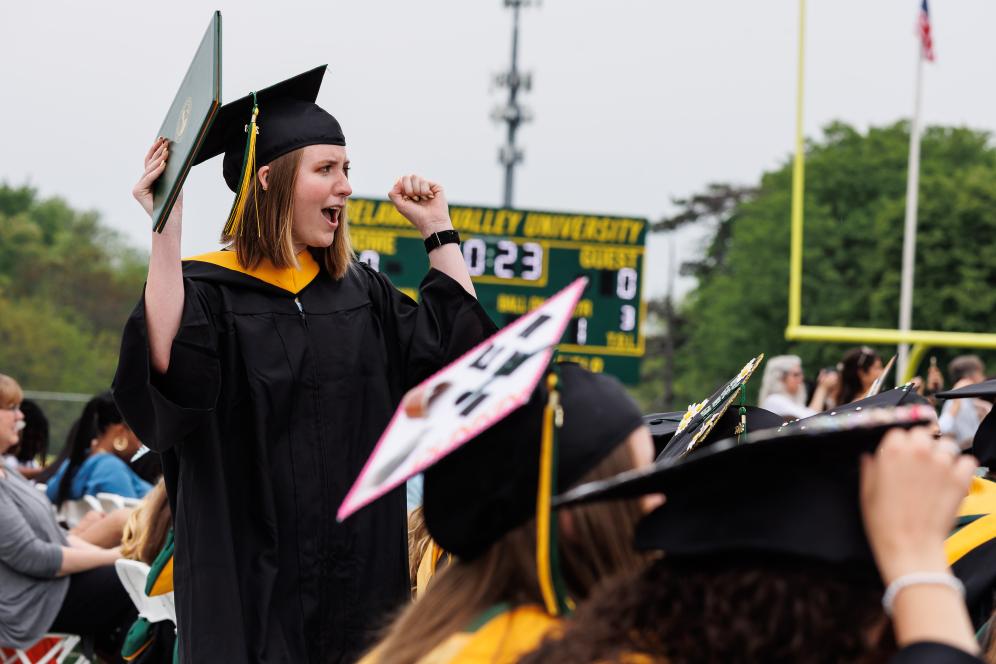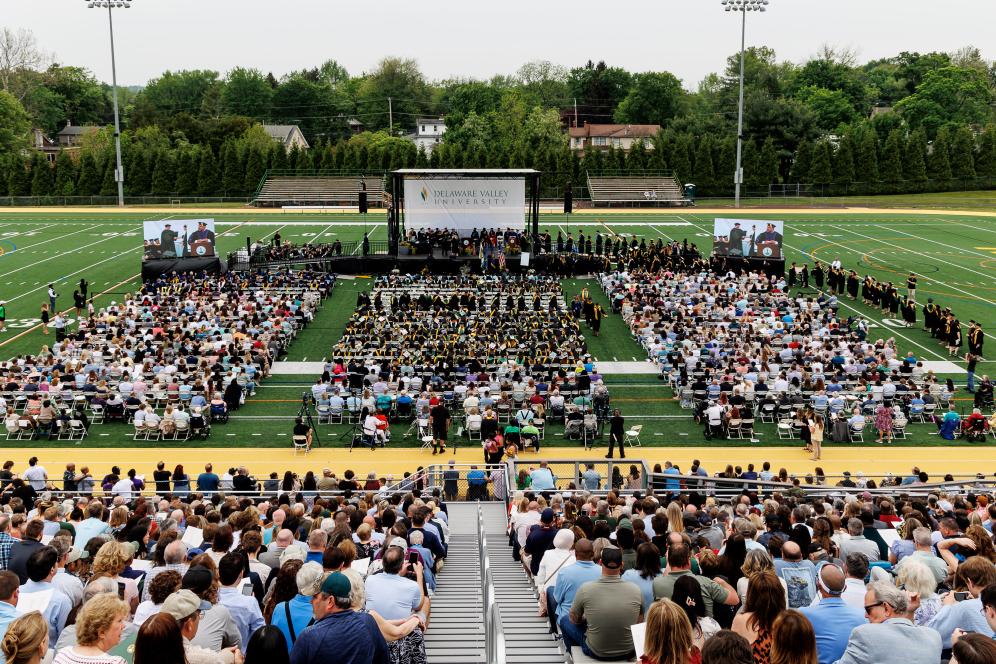 Graduate Information
A: To order regalia, please visit http://colleges.herffjones.com/college/_delval/.
Regalia orders will be available for pickup at the bookstore starting in April, Monday to Thursday 9 am to 4 pm, and Friday 9 am to 3 pm., the bookstore is closed on the weekend.
Doctoral candidates, please scroll down to the DOCTORAL GRADUATE INFORMATION for regalia ordering information.
A: Academic Latin Honor Cords will be distributed at Commencement Rehearsal. If you are part of a student club or organization that has approved cords or stoles, please contact the president of the club or organization to learn how to receive those items.
A: Graduates do not receive their diploma at graduation. Instead, a ceremonial diploma cover is given to each graduate as they cross the stage. Diplomas are mailed in early July.
A: At Commencement, graduates wear academic regalia. This includes a cap, tassel, robe and hood. Graduates should be mindful of weather conditions of the outdoor ceremony and should dress accordingly.
The hood should be worn velvet side out with the velvet binding flipped to show the colors; secure the hood so that it does not fall off your shoulders. The mortarboard should be worn flat (parallel to the ground), secured with bobby pins, if necessary.
Please be advised that high heels (stiletto/spike) are not allowed on the field. You will be walking and standing as well as climbing stairs, so it is recommended that you wear a comfortable shoe (flats, boots, sneaker, or a low wedge heel).
A: Please contact Laura Rambo. Call 215.489.2401 to confirm pronunciation. You can leave a message where you speak slowly saying your first name and last name. Please also leave your best contact number should we need to call you back.  
A: Yes, rehearsal will be held on Friday, May 10 at 4:30 p.m. in the Life Sciences Building Auditorium. The graduates will receive an overview that includes information about seating, processing across the stage, and how to put on your cap and gown. That information will be posted here as well.
Commencement Event Information
A: Please enter campus using the main entrance on East Butler Avenue. Public Safety personnel and volunteers will provide parking guidance once you arrive on campus. Handicapped parking is available in A Lot and will be designated. 
Refer to the map for additional parking lots. Please consider the walking time from your vehicle to the ceremony location which can vary.
A: A livestream link will be available of the ceremony. The livestream will be on the main Commencement webpage. The Livestream can also be found on the Delaware Valley University youtube channel on the day of the event. 
A. No tickets are required for Commencement.
A: There is no limitation for the number of guests.
A. We ask that you do not arrive on campus before 7:30 a.m. The gates to the stadium will open at 8 a.m.
Gates to the stadium will open at 8 a.m. Guest seating is on a first come, first serve basis.
Guest seating will be in the bleachers with limited seating on the athletic field. Designated seating sections on the field will be labeled. (i.e. graduates, faculty, handicap, etc.)
Seating for graduates, university attendees, and handicap seating will be on the athletic field inside the stadium. Accommodations for those who utilize a wheelchair or other mobility assistive devices are in place.
Only service dogs as recognized under the ADA are allowed. No pets are allowed.
Please be advised that spiked heels are not allowed on the field. It is recommended that guests wear flats or a low wedge heel.
The Life Sciences Building Auditorium, will serve as a satellite viewing location for guests who do not wish to sit on the field.
A: Yes, handicap seating will be on the field and designated as such.
A: The anticipated length of the ceremony is approximately 90-120 minutes, depending on the number of graduates participating.  
A: There are two rain delay times: Saturday, May 11 beginning at 2 p.m., and Sunday, May 12 beginning at 9:30 a.m. We suggest dressing in layers and bringing appropriate outdoor accessories, such as sunscreen, and umbrellas. 
The University will make announcements about severe weather-related changes to the Commencement ceremony via this webpage, email and social media as soon as the decision is made.
A: Finding photos after the ceremony is easy. Visit www.GradImages.com, enter Delaware Valley University and class year to view and purchase custom photo products like prints, plaques, specialty gifts, and more. GradImages® is proud to support one of the biggest moments in a graduate's life: walking across the stage and into the next chapter. Please note, it can take up to three weeks for the pictures to be posted.
A: A concession stand will be open at the stadium beginning at 7:30 a.m. and is cash only. Beverages and small items will be available for purchase. (An ATM machine is located in the Student Center on the first floor.)
Doctoral Graduate Information
Visit this link and select Self Service. Then click on Graduation Overview to complete the application to graduate. In order for your name to appear in the Graduation Program, you need to complete this by March 15, 2024.
Regalia consists of a gown, a hood and a tam. If you plan to use regalia in future academic ceremonies (i.e. graduations, academic convocations, etc.), you may wish to consider purchasing a gown and tam. You can do that by visiting this link. 
If you do not plan to use regalia in future academic ceremonies, you may wish to rent your regalia. Contact Chris Urban, our Herff-Jones representative, at curban@herffjones.com for the details.
During the ceremony, the names of all Doctor of Education graduates are read. Graduates will walk across the stage to receive their doctoral hood and have their photo taken. Prior to the ceremony, a short meeting with all doctoral graduates will take place to clarify the process.
Diplomas will be mailed to students within 6 weeks of graduation.