Explore a career in equine massage therapy.
---
Whether you are interested in a career in equine massage or already in the field, this one weekend per month course will blend pedagogy with experiential learning to cover critical aspects of this discipline. Structured as a five-hour per session Saturday and Sunday course, you will begin with an examination of equine anatomy and musculature and proceed to basic hands-on techniques to understand common conditions and pathologies. Several field trips are part of the program, including visits to local horse barns. Case studies and presentations will be part of the final evaluation.
Spring 2024 course registration is open
Saturdays 1:30 p.m. to 6:30 p.m. and Sundays 8:00 a.m. to 1:00 p.m.
Week 1: Saturday 1/27, Sunday 1/28
Week 2: Saturday 2/17, Sunday 2/18
Week 3: Saturday 3/16, Sunday 3/17
Week 4: Saturday 4/13, Sunday 4/14
Week 5: Saturday 5/4, Sunday 5/5
---
Topics will include the following:
210 total hours of instruction, homework, and research

Equine anatomy and physiology

Hands-on massage techniques

Pathologies of the equine skeletal and muscle structures

Saddle fitting, stretching exercises, guest lecture (s)

Identification of performance problems and corrective therapies

Business plan and marketing for the massage professional

Ethics, boundaries and business practices

Final written and practical examination
Textbook is included with tuition. This program is not eligible for financial aid. 
Location: Delaware Valley University, Main Campus
Cost: $1,599
Instructor: Dr. Michael M. Burak, D.C.
Please address course content questions to Dr. Michael M. Burak, D.C. at michael.burak@delval.edu. Visit Dr. Burak's website.
By the end of the course, I knew a lot about the horse's anatomy and physiology, I also feel confident in identifying musculature issues and helping to resolve them. It's a rigorous course, and it gave me the confidence to start my own business in equine massage therapy."
Tracy S.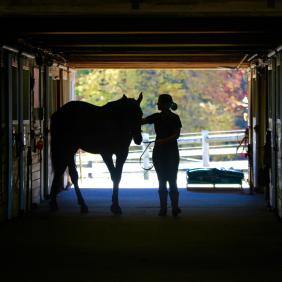 Contact
Office of Continuing and Professional Studies