In the wake of COVID-19, the agricultural supply chain requires an unprecedented level of creativity, innovation and flexibility. This program will equip you with the analytical skills and practical advice from industry experts to succeed in senior management roles in food and agricultural industries.
---
As a leader in both agriculture and business education, Delaware Valley University is uniquely qualified to offer graduate studies in agribusiness management. Our 10-course, 30-credit curriculum will fully prepare you for senior management positions in the food and agriculture industries. You will learn from leading professionals, who bring their experience into the classroom, providing relevant examples and case studies.
Program Highlights
100% online course format

Rolling admissions with entry points in Spring and Fall

No GMAT or GRE for admission

We offer all program prerequisites as self-paced online classes
AGRIBUSINESS AT-A-GLANCE
Core Curriculum
Managerial Economics (3 credits)
Applied Decision Analysis in Agricultural Markets (3 credits)
Legal Issues in Agriculture and Food (3 credits)
Agriculture and Food Policies (3 credits)
Agribusiness Supply Chain Management (3 credits)
Electives (4 courses)
Independent Research

Research Project (3 credits)
Optional Thesis (6 credits)
Required Prerequisites
Agricultural Economics or Microeconomics
Macroeconomics
Statistics
Accounting
10 Courses
30 Total Credits
Core Course Descriptions
The objective of this course is to help managers of a firm develop effective solutions to obstacles posed by the economic and market environment based on both macro and microeconomic theory and concepts. It helps in formulating logical managerial decisions. The key of Managerial Economics is the micro-economic theory of the firm operating in a macroeconomic environment and will lessen the gap between economics in theory and economics in practice. This course will guide managers in making decisions relating to the firm's customers, competitors, suppliers as well as relating to the internal functioning of a firm. It makes use of statistical and analytical tools to assess economic theories in solving practical business problems.
Effective management of the supply and logistics chain is one of the most crucial aspects of agribusiness management. This course will examine the importance of a well-functioning supply chain and its implications for product integrity and quality and profitability. Topics will include strategic design, risk identification and mitigation, and emerging issues in modern agribusiness supply chain management.
This course will provide a workable overview of the key legal and regulatory issues faced by managers in the food and agriculture industry. These include environmental issues covering land use and water, food safety, food labeling, animal welfare, implementation of the Farm Bill, crop protection, biotechnology and trade.
Taught by: Ms. EmmaRose Boyle, Esq. Associate, Food & Industry Group, Barley & Snyder
Dr. Christopher Gambino, Assistant Professor, Animal Science
This course will focus on the development and implementation of agriculture policy in the U.S. and the relationship between food and agriculture policy with other public policies. Topics will include the design and structure of the Farm Bill and public policies related to domestic and international food security, nutrition, food safety, sustainability, and the environment. In particular, the course will look at past and present policy tools, levers, and/or mechanisms to align agricultural production and environmental outcomes. To navigate these landscapes, students will explore processes to create a food and agricultural system in which environmental stewardship and farmer profitability are complementary goals and not competing priorities. 
This course will provide managers with the analytical tools required to support real-life decision analysis. This will include a review of quantitative techniques in decision analysis. Topics will include set theory, distributions, application of matrix algebra to input-output analysis, elementary Markovian process, decision theory, risk and uncertainty, valuation criteria, decision trees, and game theory.
Elective Course Descriptions
This course will cover the theoretical concepts underlying international trade in food and agricultural products as well as recent trends in agricultural trade. The course will cover topics such as exchange rates, trade agreements including USMCA, regional Integration, domestic trade policies, operations of international and regional institutions such as the WTO, IMF, World Bank and regional development banks. This will include the use and implications of tariffs and non-tariff barriers such as phyto-sanitary measures and trade disputes involving food and agriculture products as well as the interrelationship of trade policies with other national policy decisions including national security and diplomacy.
The use of agricultural technology presents opportunities and challenges for agribusiness managers. This course will provide students with the expertise required to identify and employ cutting edge agricultural technology so as to optimize production, maximize profitability, and reduce environmental impact.
Effective financial management is a key to profitability in agriculture. This course will build on undergraduate courses in finance to enhance skills in the financial management of agricultural enterprises. Topics will include the theory of financial management, capital allocation and the evaluation of capital investment, resource allocation, credit in agriculture, and risk management strategies. Basic financial analysis concepts (balance sheet, income statement, cash flow statement) will be reviewed along with the use of essential financial ratios in evaluating economic performance and investment analysis. This course will build on and complement other courses in the program, notably the management of agricultural technology and applied decision analysis.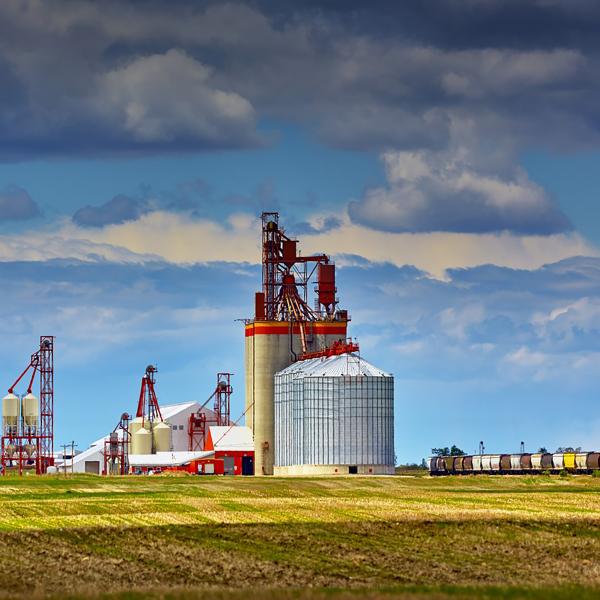 4 + 1 Program
High performing students within Delaware Valley University are eligible to apply to the M.S. in agribusiness management during their junior year. Commonly known as the 4+1 Program, this track allows students to complete their undergraduate and graduate degrees in as little as five years while saving over $5,800 in graduate tuition. Students accepted into this program can take up to four of the required 11 graduate courses during their junior and/or senior years. Graduate courses taken while an undergraduate student are included in full-time undergraduate tuition. Classes count towards both undergraduate and graduate degrees. Contact the program director for details.
Action Competencies
Innovative thinking demonstrated by the ability to apply complex concepts, develop original solutions or utilize previously successful resolutions in creative and adaptive ways for breakthrough thinking.
Analytical thinking demonstrated by the ability to understand a situation, issue or problem by deconstructing into smaller pieces or tracing its implications in an informed manner. This will require the demonstration of organizational skills, communication skills, accurately making systematic comparisons, setting priorities on a rational basis, identifying time sequences, causal relationships, development of scenario analysis and ultimately determining the impacts of a decision and actions on organizational resources, partners and consumers.
Strategic orientation demonstrated by the ability to identify, analyze and evaluate the implications of the full scope of external and internal (organizational) factors that impact planning and operations. These include economic, environmental, demographic and ethno-cultural, political, and regulatory actions globally. The result will be the development of successful strategies that continually improve and transform the long-term success, viability and outcomes of the organization.
Enabling Competencies
Quantitative and analytical skills demonstrated by the ability process and analyze a wide range of operational, market, and financial data necessary for effective decision making.
Environmental stewardship demonstrated by the appreciation of and ability of recognize the environmental impacts of agricultural and food production operations, and ability to develop policies and programs to limit or remediate these externalities.
Managing integrated teams demonstrated by the ability to manage collaborative teams to accomplish specific goals and objectives. When not in an active leadership role work collaboratively with others across to achieve goals.
Communication skills demonstrated by the ability to speak and write in a clear, logical, and grammatically correct manner in formal and informal situations, to prepare cogent business presentations, and to successfully lead and facilitate group activities.
Influence and impact demonstrated by the ability to persuade, convince, influence or sway individuals and groups to earn their support on a position, project, opinion or challenge by establishing credibility or using data to directly influence or address a person's issues or concerns.
Information technology management demonstrated by the ability to see the potential in, understand and apply the use of information technology and decision-making support tools in process and performance improvement, including the active utilization and continuous upgrading of information management capabilities.
Professional & Social Responsibility demonstrated by the ability to understand and analyze the impacts of decisions and actions on an organization, community and the environment through transparent and ethical behavior that contributes to sustainable and responsible development of initiatives, policies and outcomes.
PREREQUISITES

Course Number

Course Name

Requisites

Credits

GB 5025

Agricultural or Microeconomics

 

 

GB 5010/26

Macroeconomics

 

 

GB 5020

Accounting

 

 

GB 5040

Statistics

 

 

REQUIRED AGRIBUSINESS CORE

Course Number

Course Name

Requisites

Credits

MAM 6001

Managerial Economics

GB 5025, GB 5010 OR GB 5026, GB 5020, GB 5040

3

MAM 6010

Applied Decision Analysis in Ag

MAM 6001

3

MAM 6025

Legal Issues in Food and Ag

Graduate Student or Instructor Permission

3

MAM 6030

Ag Food and Trade Policies

Graduate Student or Instructor Permission

3

MAM 6035

Agricultural Supply Chain Mgmt

GB 5025, GB 5010 OR GB 5026, GB 5020, GB 5040

3

MAM 6050

Independent Research

MAM 6001, MAM 6035

3

Total Credits

18

ELECTIVE COURSES (Choose 4)

Course Number

Course Name

Requisites

Credits

MAM 6005

Managerial Economics

GB 5025, GB 5010 OR GB 5026, GB 5020, GB 5040

3

MAM 6015

Applied Decision Analysis in Ag

MAM 6001

3

MAM 6020

Globalization in Ag Markets

GB 5025, GB 5010 OR GB 5026, GB 5020, GB 5040

3

MAM 6050

Independent Research

*Students who elect to take 6 research credits must orally defend thesis

3

MM 6017

Leadership Through Self-Awareness

 

3

MM 6025

Leading and Organizing Teams

 

3

MM 6030

Leading Strategic & Org. Change

 

3

MM 6040

Managerial Communications

 

3

MM 6111

Current Issues in Food & Ag

*Not recommended for students who took AB 4300

3

MM 6112

Food and Ag marketing

*Not recommended for students who took AB 3126

3

MM 6115

Topics of Intl Food & Agribus

 

3

MM 6212

Leadership

 

3

MM 6210

Contemporary Business Issues

 

3

MM 6215

Corporate Governance

 

3

Total Credits

12

SUMMARY

Requirement

Credits

Core

18

Elective

12

TOTAL CREDITS

30
Contact
Richard Maher, MBA
,
Assistant Director of Graduate Admissions