DelVal education is founded on a teaching-based approach to interdisciplinary learning. Offering a comprehensive curriculum in each area of study, we will challenge you to excel academically, supporting you with highly engaged faculty.
Dr. Tanya Casas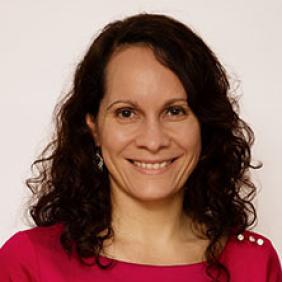 Dean, School of Business, Arts and Sciences
As a result of having been raised in a bicultural family and lived in several countries outside of the United States, I have always been fascinated with studying differences, especially the differential trajectories of societal development and the root causes of social change. I grew up with a foot, so to speak, in two distinct but connected worlds – the United States and Ecuador. This, coupled with a year abroad in Germany during the historical years of 1989 and 1990, when the Berlin Wall fell, ignited my interest in political-economic history and issues of social justice. This background has shaped my personal and academic interests.
As an undergraduate, I pursued a degree in International Relations with an emphasis on Latin America and Environmental Studies. After a stint working in New York City in the financial sector, I went on to pursue a degree in Cornell's unique Development Sociology program. Here I was able to meld my fascination with social change, social justice, and political-economic history by pursuing research on indigenous movements in Ecuador and other countries in the region. Using an ethnographic approach to research, I began working in Ecuador in 1997 and continue to periodically return to this beautiful country and others in Latin America.
My research interests include indigenous movements, coloniality, food security and food sovereignty, social and environmental justice, international development, global social change, and extractive economies.
These interests inform my service on-campus clubs, such as Students for Diversity, and campus initiatives including The Precarious Alliance Sustainability Symposia. They also find their way into my courses both at the undergraduate and graduate levels which include: Introduction to Sociology, Cultural Anthropology, International Political Economy, Cultural Minorities, Non-Western Societies, Political and Cultural Geography, Globalization and International Development, Qualitative Research Methods, Environmental Justice, and Contesting Development.
---
Education
Ph.D. in development sociology, Cornell University, Ithaca, New York, 2006
Major: state, economy, and society; Minor: Latin American studies and social anthropology
M.S. in development sociology, Cornell University, Ithaca, New York, 1999
Major: state, economy, and society; Minor: Latin American studies.
B.A. in international relations, Johns Hopkins University, Baltimore, Maryland, 1995
Major: international relations; Minor: environmental studies.
Study Abroad (undergraduate), Universidad San Francisco de Quito, Quito, Ecuador, 1994-95
Dr. Tanya Casas
,
Dean, School of Business, Arts and Sciences