At DelVal it is all about real-world experience. We are here to help!
---
Whether you are seeking a part-time position during the school year, a resume-building summer experience, or full-time employment ahead of graduation, the Career Services team is ready to support you in your job search efforts.
The links below include job search sites, as well as sites to research companies in your field. Also, make sure to utilize the major-specific resources to find resources related to your major.
Job Posting/Company Verification Disclaimer
Delaware Valley University and its Center for Student Professional Development (collectively "CSPD") strive to confirm the legitimacy of the employers, organizations and individuals ("Employers") who post job and internship opportunities via school sanctioned recruiting and networking platforms including CSPD-approved campus flyers, emails, events, and online sites including ExperienceLink, a DelVal branded database powered by Symplicity. As an extra layer of protection, the CSPD requests that all parties who recruit DelVal students and alumni agree to the standards set forth in our Networking & Recruiting Policy.
However, due to the volume of recruiting requests received, CSPD is unable to fully research and confirm the legitimacy and validity of every Employer, or job or internship opportunity that gets shared with the university community. Furthermore, CSPD does not endorse any Employer and makes no representations or guarantees about positions posted. We are not responsible for the accuracy of the information posted, or the safety, wages, working conditions, or other aspects of any opportunity. Nor are we able to guarantee that a job or internship will remain available after it is posted. 
It is the responsibility of each individual to research the prospective Employers and to verify the specific information pertaining to the job or internship posting. Job/internship seekers should exercise due diligence and use common sense and caution when applying to or accepting any position.
Unfortunately, everyday people use the internet to scam and defraud other people. Please use caution when using the internet to job search, when sharing information about yourself online (or over the phone) and when using any web-based resources, including ours, to apply for positions. For your privacy and protection when applying online, it is advisable that you do not provide your social security number, credit card information, financial institution information, or bank account information to any prospective Employer. 
If you suspect fraud or abuse, please report it to CSPD immediately.  In addition, if you are asked to engage in suspect activity, or engage in any sort of monetary transaction, please contact CSPD before undertaking such activity or transaction.
Use of CSPD resources for job and internship search, including CSPD-approved campus flyers, emails, events, and ExperienceLink, as well as other online sites is completely voluntary and carries with it certain risks.  By using these tools, you voluntarily accept all risks of such activity and fully and forever release CSPD, and all persons acting by, through, under or in concert with CSPD, from any and all liability or claims of any nature whatsoever. 
For students using ExperienceLink, please read the privacy policy.
Any/all concerns and issues related to job and/or internship opportunities shared by the CSPD should be addressed promptly via email - cspd@delval.edu.
Student Job Search Resources
Our University job board, ExperienceLink, features hundreds of entry-level positions at any given time, posted by employers searching for student talent. In many instances, the positions listed on ExperienceLink are exclusively posted for Delaware Valley University students and alumni. You will have access to ExperienceLink from the time you begin your studies at DelVal and you can continue to utilize the platform even after graduation.
We manage an internal database of over 2,000 industry partners who have a history of recruiting our students. We also leverage the power of our alumni network on LinkedIn and through our campus partners in Alumni Engagement to connect you with your fellow Aggies.
Each year, we host a variety of professional development events that bring our employer partners and students together. This face-time – whether in person or virtual – gives students who participate an advantage in their job search that can mean all the difference.
You can also stay informed about new job and internship opportunities by reading our "Who's Hiring" e-newsletters and by following along with us online on Twitter and Instagram (@DelValCPSD), and on Facebook.
We can help you identify potential sites for employment and develop an individualized job search strategy that meets you where you are.
"My favorite part of DelVal was the hands-on-learning and the E360 Program," said Lance. "It's great that the University gives students time to learn about their passions. The experience from doing internships helped me get a job after DelVal."
Jonathan Lance '19 | B.A., Media and Communication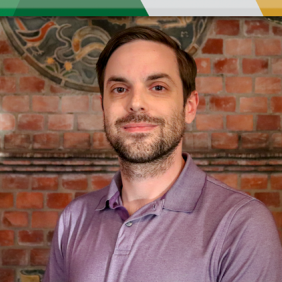 Contact Information
Center for Student Professional Development (CSPD)
Monday-Friday
8:30 a.m.-4:30 p.m.
Segal Hall, First Floor
Appointment only or during walk-in hours.
Walk-In Hours: 
Wednesdays 11 a.m.-1 p.m. (during the semester)