Feed Your Passion with a bachelor's degree in food science or nutrition science. Students in these programs engage in hands-on learning at DelVal's facilities, which include dedicated food science classrooms and preparation area, teaching and research lab, and multipurpose labs. Campus offers orchards, gardens, greenhouses, hydroponic and aquaponics facilities, and 1,000 acres of crop and animal production. The food and nutrition fields continue to grow as consumers understand the importance of diet on overall health, and these majors prepare you for excellent career opportunities.
DelVal Students Practice Their Food Passion with Amazing Chefs on "The Chef's Kitchen" TV Show
Four students with a passion in the food industry joined renowned Chef's, Michael Solomonov, Lee Chizmar, Ryan Zellner, and Anthony Bonett for an episode of The Chef's Kitchen College Campus Cooking, which aired on NBC10, and several other networks, reaching over 78 million households. The show provides tips and techniques from the country's most exclusive restaurants and features award-winning chefs, notable bakers, and the world's most-learned sommeliers. Each episode of the college campus cooking series showcases one of the nation's top culinary talents sharing original, quick and easy dishes with students. This hands-on learning and relationship-building with the chefs was an unforgettable experience for our students whom are food industry bound.
Experience Elevates Success
With 100 percent of our students having real-world, hands-on experience, graduates with a degree in food science or nutrition science find careers in various areas of the industry such as:
Food science
Product development

Quality assurance and food safety

Research and development
Sensory evaluation
Laboratory analytical testing
Product management
Nutrition science
Public health Educator

Food service manager

Food science careers

Community health worker

WIC (Women, Infants, and Children)

School food service

Author (books, magazine articles, nutrition education materials)
DelVal graduates of these programs have been employed at top food corporations including Campbell's, Clemens Food Group, Wawa Bakeries, Godshall's Quality Meats, Del-Val Food Ingredients, Kellog's, McCormack, Ocean Spray, Pepsi, Turkey Hill and more.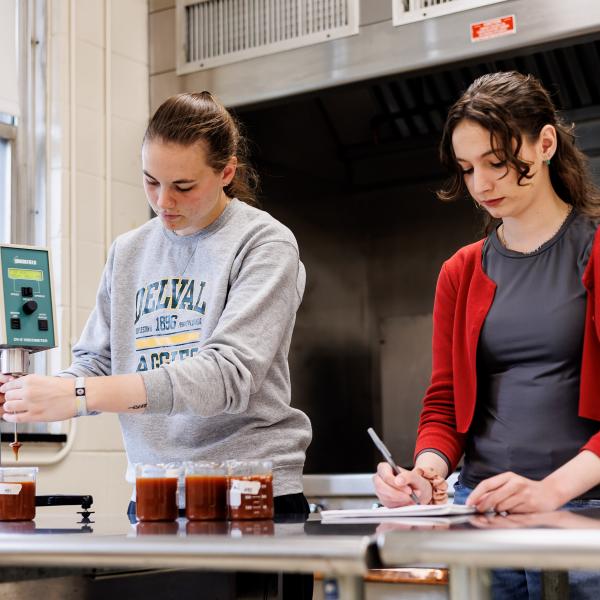 Sample Courses for Foodies
You'll do blended work across DelVal's chemistry, biology, mathematics and food science departments, working in small, hands-on classes designed to give you firsthand experience.
Food Science Courses
Food Microbiology

Product Development

Quality Assurance

Food Analysis

Food Processing

Introduction to Food Science

Sanitation and Safety

Food Chemistry

Introduction to Nutrition
Nutrition Science Courses
Macronutrients, Vitamins, and Minerals

General Microbiology and Lab

Human Physiology and Lab

Food Service Operations

Food Chemistry and Lab

Medical Nutrition I and II

Statistics for Science

Biology

Chemistry

Introduction to Food Science and Technology Lab

Principles of Professional Cooking and Lab

Sanitation Management

Comparative Anatomy and Lab

Biochemistry and Lab