Study abroad scholarships awarded
---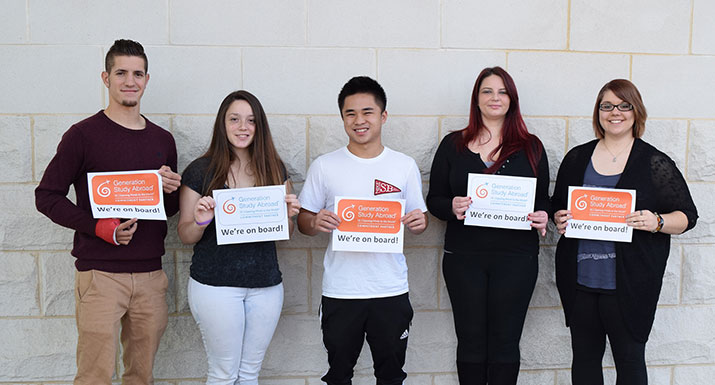 Delaware Valley University is pleased to announce the first students to receive Generation Study Abroad Scholarships. Six DelVal students were selected to receive $2,500 scholarships funded through a grant provided by the Generation Study Abroad Initiative and the University. The goal of the scholarships is to double the amount of U.S. students who go abroad while providing the opportunity to participate in study abroad programs to a more diverse group of students. These scholarships are awarded to increase the diversity of background, major, career interest and life experiences of the DelVal students who participate in study abroad opportunities.
DelVal students receiving the scholarships are traveling to Belgium, South Africa, Italy, Costa Rica and the U.K. this spring.
The following DelVal students earned Generation Study Abroad Scholarships for spring 2016: Heather Dzindzio '16, Francis LeMay '16, Morgan Ramsby '17, Peter Tantillo '16, Ashley Valkavitch '17 and Alexander Vo '18.
Dzindzio, an animal science major from Somerdale, New Jersey, is studying at Hartpury College, in the U.K. during the spring 2016 semester.
LeMay, a student from Philadelphia, Pennsylvania and Tantillo, a student from Hawthorne, New Jersey are traveling to Costa Rica with the Tropical Ecology course during spring break 2016.
Ramsby, a business administration major from Upper Black Eddy, Pennsylvania, is studying at Artevelde University College in Belgium during the spring 2016 semester.
Valkavitch, a counseling psychology major from Lansdale, Pennsylvania, is traveling to Italy with the Place Studies Literature course during spring break 2016.
Vo, a pre-professional biology major from Perkasie, Pennsylvania, is studying at the University of Cape Town in South Africa during the spring 2016 semester.
To learn more contact: studyabroad@delval.edu or, visit: delval.edu/academics/undergraduate/study-abroad