Making the Most of DelVal: Rising Senior Shares Her Experience as a Student and Friend
---
Madison "Maddie" Osatchuck '23, an undergraduate student at Delaware Valley University (DelVal), says her biggest, yet simplest, goal during her time at DelVal is to be the best person, student and friend she can possibly be. Achieving just that, Osatchuck is involved in numerous groups and organizations on campus, has a passion for furthering her knowledge in academia, and serves as a mentor for first-year students. Growing as a person, student and friend, Osatchuck is excited to begin her senior year this fall as she continues to seize every opportunity that DelVal offers her.
Osatchuck is a biology major with a specialization in zoology and a minor in animal science. In fact, DelVal's biology and zoology program is what first sparked her interest in the University. "I'm from Pennsylvania and I wasn't sure if I wanted to travel out of state to pursue a degree at another school with Zoology. DelVal was one of the only schools close to me with that kind of a program so I decided to check it out and I fell in love with it on my tour!" she recalls.
The University's small class sizes, hands-on learning, and unique offerings of majors, specializations and minors, made it an easy decision for Maddie to attend DelVal. "The small class sizes really allow me to get more hands-on learning experiences, which has been especially helpful during labs," Osatchuck explains. "I feel like I'm able to develop a deeper understanding of my academic content when I'm able to apply it, see it, and practice it. One of my favorite parts of DelVal!" she adds.
For her E360, she recently completed a research project with Dr. Downs of the biology department. The project reviewed the comparative anatomical description of tristichopterid fossils from the Late Devonian Era. Osatchuck explains, "Initially, we thought we were just going to be diagnosing a group of undiagnosed fossils to an existing species. However, our worked changed paths about halfway through the project when we realized we could not diagnose it as an existing species, so we decided to describe a new species of Eusthenodon!"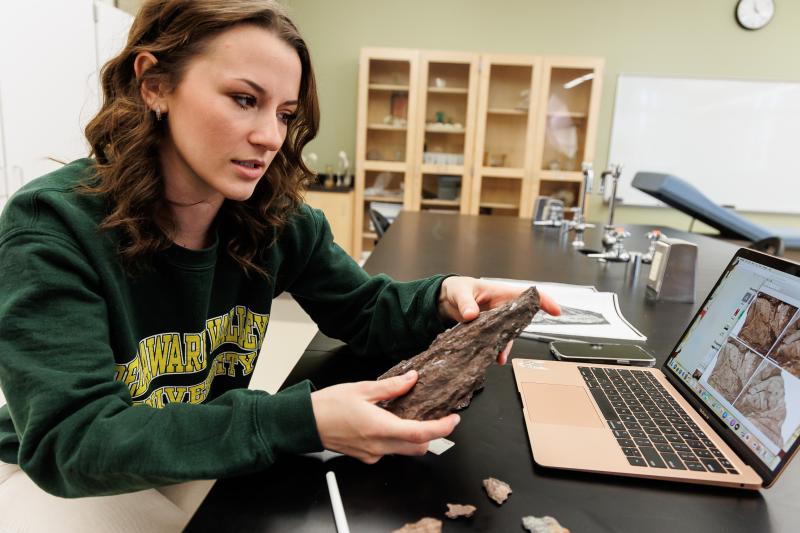 As Osatchuck continues to excel in her academics at DelVal, she truly enjoys finding new ways to stay involved on campus. She is the treasurer for the class of 2023, the founder and president of Sisters in STEM Club, a member of Biology Club, Chemistry Club, and Animal Lifeline Club, and she works a campus job as a small animal lab technician. She is also a RAMbassador, which is a group of DelVal students who help prospective students understand what it's like to be an Aggie, providing campus tours, helping with orientation, and being enthusiastic ambassadors of all things DelVal.
In addition to all of the clubs and organizations Maddie takes part in, she is a First Year Peer Mentor, the Representative for Academic and Student Affairs, and the Facilities Representative to two subcommittees of the Board of Trustees. Representing the ambition, enthusiasm and motivation of DelVal students in more ways than one, Maddie's connection to this close-knit community continues to grow.
"I think the most essential part of my education at DelVal is having a good support system. Academically, our faculty and professors are so supportive and encouraging to students. We also have supportive staff in offices like the Registrar, Bursar, and Financial Aid. Without this support system, it would be much more difficult to be successful here and after graduation."