In recent years, "experiential learning," or learning by doing, has become a powerful idea in education. At DelVal, we've been perfecting that approach since 1896, when our founder launched his school on the idea of "science with practice." Today, DelVal is a noted leader in blending classroom education with hands-on practice from Day One. Because we've always understood the way it creates an indelible learning experience that prepares you for the real world.
---
The Experience360 Program prepares students to solve problems, integrating classroom knowledge with real-world experience. In fact, 100% of our students will gain real-world experience before graduation. 
Delaware Valley University is one of the few schools to require experiential learning as a part of the curriculum. Our innovative Experience360 program integrates classroom knowledge with real-world experience, individualized to your major. You'll build your career from day one. It's an approach that delivers the results, and we have the data and the outcomes to prove it.
Our students begin building their careers from day one, beginning with a course incorporating professional development and problem-based learning and ending with the creation of a co-curricular transcript that incorporates experiences such as internships, study abroad, research and civic engagement.
These experiences make you more qualified for the challenges of the 21st century.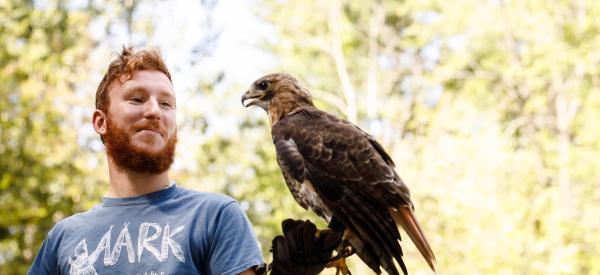 Throughout their E360 experiences, students will:
be actively involved
reflect on the knowledge gained
use analytical skills to conceptualize their experiences
demonstrate decision-making and problem-solving skills
gain real-world competencies within their chosen disciplines
From Our Roots
In 1896, Rabbi Joseph Krauskopf founded DelVal with the conception of "science with practice." For more than 100 years, DelVal has stayed true to his educational beliefs, all the while staying at the forefront of experiential learning. In fact, we've evolved his wisdom so that every student is required to take part in this program to better prepare them to tackle the most important issues of our time.
What's In A Name?
Experience is the knowledge or skill gained through involvement in or exposure to an event or activity. Internships, student teaching, career exploration, research and study abroad are just a few of the activities that give our students knowledge and skills.
We're doing more than focusing on post-graduation accomplishments; we are focused on the outcomes that occur all four years within our students – confidence, life skills, study abroad, internships, leadership development and civic engagement. We are helping our students to become well-rounded, global citizens – literally the experiences that produce 360 degrees of an individual.
E360 Requirements By Program
---
Experience360 Activities
Experience360 activities provide active, hands-on applied experiences tied to specific academic objectives and outcomes. The program provides students with the opportunity to participate in real-world activities as a basis for learning and developing specific career goals and aspirations. By taking part in E360, you will:
Be actively involved in the experience;

Reflect on the knowledge gained from the experience;

Use analytic skills to conceptualize the experience; and

Demonstrate decision making and problem solving skills gained from the experience.
During your first year at DelVal, you will take a first-year experience course that will prepare you for the program and assist in your professional development. After that, a variety of opportunities are available to you.
Each academic department has outlined requirements by major. Check out your academic department's 

E360 Requirements (these are listed by major at the bottom of this page)

.

Unsure of what activities you should complete? Look at your department's requirements, talk to your academic advisor or Chair and come see us in the CSPD.

For overall policies and information about the program - read the 

E360 Resource Book.

Looking for a position? Be sure to review our 

Job Posting/Company Verification Disclaimer 

as part of your E360 activity search process. Then view

 

ExperienceLink

 and 

other websites

 for open positions, attend our 

job and internship fairs

 and networking 

events 

and make an appointment with an experiential learning advisor in the CSPD. 

Register your experiential learning activity at 

ExperienceLink

 - check your student email for detailed information such as step-by-step directions and deadlines.
Experience360 Program Prerequisites
Must have successfully completed the Introduction to Experiential Learning or DelVal Experience I & II course

27 completed credits for all activities unless otherwise noted. Minimum of 15 credits completed at Delaware Valley University.

Willing to participate in a work/learning experience

Be a responsible ambassador for DelVal to the community
Experience360 Program FAQs
Delaware Valley University recognizes the importance of integrating hands-on practical experience with classroom instruction. The Experience360 Program (E360) provides active, hands-on, applied experiences tied to specific academic objectives and outcomes as a requirement for graduation. It provides students with the opportunity to participate in real- world activities as a basis for learning and to develop specific career goals and aspirations. Within E360, students will:
Be actively involved in the experience
Reflect on the knowledge gained from the experience
Use analytic skills to conceptualize the experience
Demonstrate decision making and problem-solving skills gained from the experience
Each academic department has their own outlined requirements by major. Be sure you are aware of the program requirements of your specific major, available on your program evaluation or each department's website.
Requirements
Each Academic Department has designated requirements that are appropriate and specific to its field and industry. Check your Academic Department's E360 Requirements for more information.
We encourage you to participate in as many activities as you are able, as they will help build your resume, your network and professional experience. If you choose to register activities in addition to your departmental requirements, the credits associated with these courses will be considered elective credits. Positions in your field / community service projects / internships / leadership roles are very valuable. We encourage you to participate in many opportunities during your time at DelVal, regardless of whether you choose to register every one for E360 recognition.
Eligibility
We encourage students to utilize ExperienceLink, a platform where employers post opportunities specifically seeking DelVal students. You may also network through campus events and faculty to gain opportunities. Students may schedule a search appointment with Experience360 staff to brainstorm options. Please see the Position Criteria for a specific activity type (For Example: Academic Internship) you intend to apply for additional information on what type of experiences would be approved for E360 recognition.
Academic Career Exploration Experience (CEE)
Provides participant with an introduction to or exploration in a discipline-related field

Allows exploration of different areas of your field and helps you to determine an area to pursue as a full-time position

Eligible after completing 27 credits

1, 2 or 3 credits
Determining post-graduation career plans by working or shadowing in a job related to your major.
Academic Internship
Helps participant develop industry knowledge and gain additional skills in preparation for post-graduation opportunities

Apprenticeship-type position in which the student works under a professional in a career track that they wish to pursue

Eligible after completing 45 credits

3 credits

Site Supervisor acts as a mentor
Training for the job you want after graduation.
Credit overload is when your credit load exceeds the maximum for full-time tuition. You are able to take a maximum of 19 credits before you are billed for credit overload. It's important that you plan your credits accordingly. If you are going to exceed the maximum credit load, we recommend that you edit your schedule to allow for the Academic Internship or take the Academic Internship the following semester. Because of the time commitment of an internship and a full-time academic load, we do not recommend exceeding the full-time course load.
Yes. While we encourage you to gain a variety of experiences, you may participate in two different experiential learning activities at the same site, with your Department Chair's approval. You must identify new and different learning objectives for each. The job function for each experiential learning activity must display variety from the other experiential learning activity. We encourage you to have a discussion with your Site Supervisor and Department Chair to ensure you are exploring new and varied responsibilities in each experiential learning activity at the site.
Yes, you can participate in two experiential learning activities within the same semester, but each must be registered in its own course section by completing separate Activity Application Forms for each. You must register for and complete the required assignments for both activities. Please contact the Center for Student Professional Development to discuss this possibility and your unique case.
This means that their insurance coverage may not cover student interns or unpaid interns. The University extends liability coverage to students that are in an unpaid, supervised internship for academic credit. Contact the CSPD for proof of your coverage.
Experience360 Activity Registration
Participation
The online course associated with each E360 activity for credit and recognition is designed to enhance your experience and learning through a course or program which includes reflective assignments, workbooks, instructor guidance and learning outcomes resulting in experiential learning. Students must be participating at the site while participating within the coursework to receive E360 recognition.
Students will submit an E360 activity application on ExperienceLink for a specified term. The application will go through an approval process. The CSPD will initially approve your application, followed by the site supervisor and department chair respectively. Each will be notified through an automated email system to approve your application. Once the application is approved on all levels, the student will be registered for the online reflection course by CSPD staff. Students will be notified once registered.
It depends on your Academic Department's E360 Requirements and how many credits you transferred to DelVal. See both the E360 Policies for the Transfer Policy, your Academic Department's E360 Requirements , as well as your Academic Department Chair.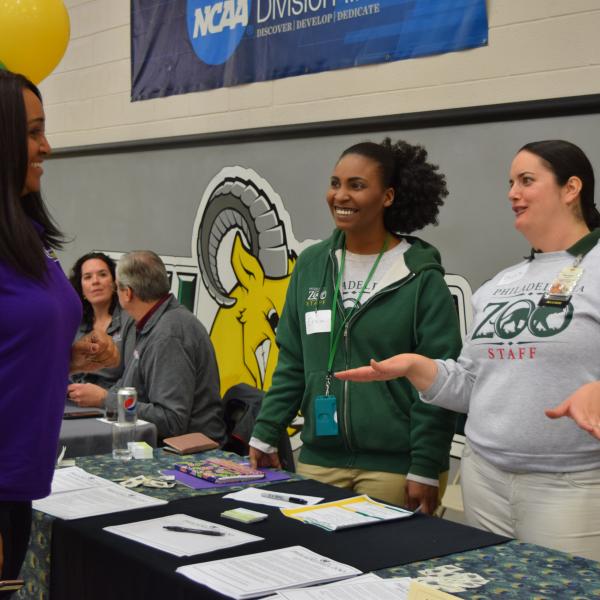 Information for E360 Employers
Work with DelVal Students!
Are you interested in having a DelVal student join your team? Learn more about becoming an E360 employer!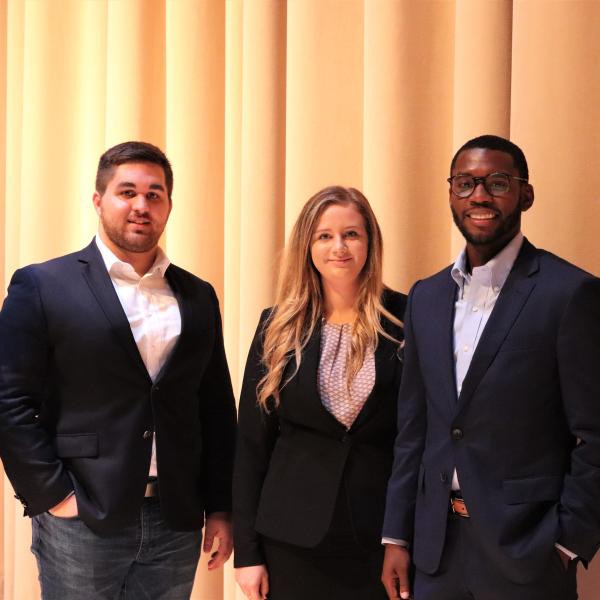 Graduate with Knowledge and Experience!
The DelVal Experience Transcript
At DelVal, we offer a powerful combination of knowledge and real-world experience that sets our graduates up for success. When you graduate, you will have a DelVal Experience Transcript that captures your experiences during your time at DelVal. 
Contact Information
Experience360 Program Contact
Hours
Hours are by appointment only
Monday to Friday
8:30 a.m. to 4:30 p.m.
Location
Segal Hall, First Floor