Educational Enrichment for Students with Exceptional Promise
By participating in the Honors Program, I was able to form connections and friendships with other like-minded students. These friendships and connections provided a great support group throughout my time at DelVal.
Alicia Smith '17 | B.S., Biology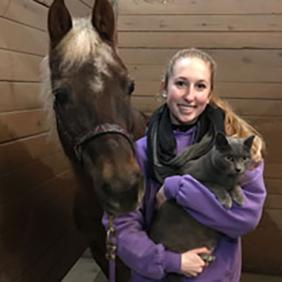 Freshman and Sophomore Honors
The basic element of the program is a series of four one-semester, one-credit interdisciplinary experiences, the Honors colloquium or seminar. These seminars are frequently team-taught and feature primary source readings, discussions, guest lecturers, innovative writing assignments, student projects and presentations, and field experiences.
Sequence follows:
HR 1110: Honors Colloquium I
HR 1210: Honors Colloquium II
HR 2111: Honors Colloquium III
HR 2212: Honors Colloquium IV
Junior and Senior Honors
Additional credits in Honors are available via departmental selected topics studies, designated interdisciplinary electives, senior research programs as well as the Honors independent study course entitled, "Explorations and Enrichment." This unique course allows students to explore their own unique academic, vocational or personal interests. Activities are usually of an interdisciplinary nature and can take place either on or off campus.
Upon satisfactory completion of seven Honors credits, the Honors designation is placed on the student's official record. These credits must include a minimum of three Colloquium credits.
Honors Program International Studies
During alternate years, the Honors Program sponsors special foreign study colloquia which allow students the opportunity to augment their investigation of a major international city with travel to that city over spring break. Led by faculty with expertise in that particular region, these courses allow students the opportunity to explore the world around them and provide a forum for meaningful discussion of history and culture. These experiences will provide invaluable insights that will re-shape the way you think about the world. Recent Honors trips have explored Vienna, Rome, Berlin and Peru.
Freshman and Sophomore Honors
Four one-semester, one-credit interdisciplinary colloquia or seminars
Readings, discussions, guest lecturers, writing assignments, projects and presentations
Junior and Senior Honors
Three additional credits via departmental selected topics studies, senior research programs and independent study
Special opportunities for international study
Admission to the Honors Program
By invitation: DelVal invites the top 100–150 students to apply to the program. Admission to the program is based on academic and extracurricular achievement.
Upon request: students with at least a 3.0 average with no grade below "B" can request to enter the program.
A letter of recommendation is required for all students.
Personal and Family History
The honors course "Personal and Family History," is an exploration into the world of how family and local histories, oral histories, biographies, and other forms of personal narrative have been conducted and constructed throughout American History. Students will learn how to conduct research, set up interviews, and begin the process of writing their own personal, family, or genealogical histories.
World Religions
This course examines the question, what is religion, how is it studied, and what is the future role of religion and spirituality in the world? It will study early religions of the world including the origins of religions in Mesopotamia, ancient Greece and Rome, and the Americas before focusing on Judaism, Christianity, Islam, Hinduism, Buddhism, and East Asian Traditions (Confucious, Tao, Shinto). The class will also examine the role of religion in contemporary America and the world including the role of religion in global conflicts. The guest instructor, Dr. Sussman is the Senior Rabbi of Reform Congregation Keneseth Israel and a renowned author and lecturer. Rabbi Sussman has published numerous books and articles,
Mondays
This course examines how "Monday" has been a recurring topic in popular music. Students will study an array of songs from different genres (blues, pop, rock, new wave, techno, country) through historical and socio-cultural lenses, to gain a better understanding of how these songs spoke to their listeners at the time and still speak to us today. How do different genres of music portray Monday, and what is it about ourselves that these songs and styles reveal? The course involves seminar-style discussion, group presentations, and informal writings. From T-Bone Walker to Tegan & Sara, you may not like Mondays, but you will like taking the Honors course Songs about Monday!
A Critical View of the Science of Science Fiction Cinema
This course is a critical view of the science behind the science fiction films that are presented to the public for entertainment. Each period we watch 2 excerpts from science fiction films, some from current films, and some from old black and white films. We spend the time after each excerpt dismantling the accuracy of the science, and why it is or is not correct. Homework assignments are to pick one of the scenes and rewrite the scene as it should look if only valid science were used.
Frankenstein: A Cultural History
It was on a dreary night of November that I beheld the accomplishment of my toils . . . the rain pattered dismally against the panes, and my candle was nearly burnt out, when, by the glimmer of the half-extinguished light, I saw the dull yellow eye of the creature open — Victor Frankenstein.
On a similar night in the summer of 1816, a gloomy season darkened by the ash of a distant volcano, 18-year-old Mary Shelley lay in bed, closed her eyes, and envisioned a tale of a madman who builds a monster from human body parts. Celebrate the 200th anniversary of this classic Gothic horror story of man's botched attempt at creation and examine its cultural significance over the past 2 centuries.
Classic Rock
From 1963 to 1973, rock music reached a peak of creativity and diversity that will never be matched again. From the Beatles to Otis Redding to Bob Dylan to Jimi Hendrix to the Who, rock n roll escaped the limitations of the formulaic hit single to revolutionize the very notion of what constitutes popular music. In "Classic Rock," students will learn to appreciate its origins and evolution. Students will listen to the music, discuss it, and present their observations. And hopefully, some of the people who made this music will talk to the class live via Skype.
Religions in Pennsylvania: Saints, Friends, and Anabaptists
Since Pennsylvania was one of the first places that had true religious freedom a number of denominations have significant events that occurred in Pennsylvania and places that are significant as well. This course will look at those events and places for three different denominations: The Church of Jesus Christ of Latter-Day Saints (Mormons), the Society of Friends (Quakers), and the Mennonites. The focus is on the history in Pennsylvania, with doctrines introduced only as needed to explain the significance of an event or place. For example, it is necessary to understand the significance of the Book of Mormon to Mormons to understand the significance of Harmony, Pennsylvania (where half of that book was translated).
"My view of our world is new now… I made discoveries that were not possible on the DelVal campus. The opportunity to experience the culture with communities that value rituals, speak a language called Quechua, depend on llamas more than a car, and color the yarn for spinning with materials that derive from earth was invaluable."
These are the words of DelVal alumna Adrienne Liszkiewicz, who traveled with a group of eight Honors students and two faculty members to Peru over spring break in 2012. The trip was part of an Honors colloquium focusing on the unique history and culture of Peru. While in Peru, students explored the ruins of ancient civilizations, witnessed the impact of Spanish colonialism and experienced modern Peruvian culture. Among the highlights of the trip were visits to the recently discovered 5000-year-old pyramids of Caral (the oldest known civilization in the Western Hemisphere), tours of historic Lima and Cusco, and visits to Inca cities of Sacsayhuaman, Ollantaytambo and Machu Picchu.
"We marveled at the quality of Inca craftsmanship, their technological and engineering brilliance as well as their quest to live harmoniously with nature," said Dr. Jack Schmidt, co-director of the Honors Program and one of the organizers/instructors. "We developed an appreciation for Incan civilization based on our studies of their history and culture prior to the trip, but the opportunity to walk among the ruins and to see first-hand the impressive stone carving, the terraced agricultural fields and the ingenious mountain irrigation system was astonishing. We all left with an increased respect for this magnificent society."
In addition to touring historic ruins, the group also spent a day in the highland village of Misminay, a tiny agricultural community located above 12,000 feet in the Andes. The group visited locals in their small one- and two-room adobe houses and shared a meal of cuy (guinea pigs), choclo (Andean corn), quinoa and other traditional dishes with the community. After lunch, the class observed local rituals, traditional farming techniques, as well as wool dying, spinning and knitting. The group also tasted home-brewed chicha (fermented corn beer) and participated with community members in the ritual of chewing coca leaves.
"The day we spent with the Misminay community was, for many of us, the highlight of our trip," said Dr. Tanya Casas, assistant professor of sociology and an expert in Andean society. "The men and women welcomed us warmly into their village with Andean songs and dances, and provided us with a glimpse into a way of living very different from our own. The people were much more in tune with their natural and social environment. Many of us marveled at the level of unity and cooperation members of distinct families displayed as they worked together to prepare for us a truly exquisite meal with products from their farms. At the end of the day, they hugged us as we departed and, as is the custom in Quechua, said 'see you later'."
As in previous Honors trips to Berlin, Rome and Vienna, students formed close friendships with others in the group. Ms. Liszkiewicz writes, "There is a bond in the honors group that developed at airport layovers (the trip home went through five airports and lasted 29 hours) and Inca ruins. It was an amazing experience to travel out of the U.S. on a short spring break to make discoveries, friendships and memories that will never occur on the small college campus. It was an opportunity that I will appreciate, reflect on, and be grateful for years after I receive the DelVal diploma."
Contact
Dr. Allison Buskirk-Cohen
,
Director, Honors Program